7 Day Motivational Thread Beginning 4/23/12
04-28-2012, 02:04 PM
FitDay Member
Join Date: Mar 2012
Posts: 66
---
Just ate breakfast. Oatmeal. I have a very strange relationship with oatmeal. I despise the taste, it's way too slimy, but it always gives me so much energy so I eat it in day's I think I'll need it. Today I'm going to babysit my friends kids in about an hour. I think that qualifies.

WEEKEND WARRIORS!
04-28-2012, 05:05 PM
---
HKG, how scary for your cat to have such a fall. I certainly hope all is well this morning. Fortunately cats are resilient, but still...poor baby!

Lizzie, I would love to see your pic. I hope you have a good day!

nobe, will you get a chance to get some rest this weekend? If you figure out something that works for the uneven wall, let me know. I'm still battling with the one in my office. I put up the kind of wallpaper that you can paint over and did that, but it's still not optimal.

Well, I am warrior-ing so far today. I deep-cleaned the fridge and both freezers, cleaned out my purse, and hubby replaced all the hard-to-reach lightbulbs both inside and out. Got my outdated testing kits packed up for recycling and off to UPS, had a healthy breakfast and lunch, and am getting to work on reports. Hope you all have a wonderful Saturday!!
04-28-2012, 06:56 PM
---
Thanks to all for the nice comments over the resolution of my GD's problem. We are very happy with the way the mediator handled it and GD learned a valuable lesson.
I'm here, too. Have been eating on track, and logging, but wasn't online much of yesterday or this morning due to helping my son with a computer issue--which is now resolved.
I'm still experimenting with eating vegetarian as often as I have the willpower to do so, which is most of the time, but it's hard to decrease my dietary cholesterol without using up more of my carb allowance. But that's how it goes--plant based food has carbs and meat doesn't unless it's organ meats. It's a trade off. I'll figure out how to make it work for me--no doubt about that.
Nobe, I did find a zero cholestrol vegetarian meat substitute, and made myself a small Sloppy Joe today with my own low carb tomato based barbecue sauce and it passed quite nicely as ground beef when simmered in my sauce. It was Quorn brand--the only brand they had. They had only the Yves corn dogs, but not chicken, but they did have Quorn brand vegetarian chicken cutlets that passed quite nicely on my requirement that my meat substitutes must have the flavor and texture of the real thing. Thanks for your help on that.
Mike, maybe that's what the motorcyclist was "revving at me" about today--alerting me to the upcoming Motorcycle Awareness Month. I was doing 38 in a 40 mile zone and he went vvrroom, vvrroom behind me. LOL I gave him a bonus--speeded up to 41. LOL
HKG, I hadn't heard of the new cheesecake flavored gum, but it surely does sound like a great idea. Let us know if you found it!
04-28-2012, 09:26 PM
---
I haven't heard of cheesecake gum, either. I wonder how it tastes? I kinda like the chocolate mint and strawberry shortcake ones that Extra makes.

Mern, you are moving toward the "expert" level of nutrition logic problems. I really admire your perseveration.

Just got back from a trip with the boy for new tennis shoes, he's had the others for six months and the soles are gone...actually gone. Why are shoes so expensive! He drove, which was good (in a nervewracking way). It was trafficky, being a Saturday, but he did pretty well.

Have to change up my dinner plans, as the chicken didn't thaw all the way in time to get into the oven, unless we want to eat at 10 PM. So, taco salad it is. Off to change my log.
04-28-2012, 10:17 PM
---
Hey Warriors! I can't seem to find "Movie theatre popcorn" on Fitday so I'll just have to sub it for Air-popped LOL Braydon was more excited about going back and forth to the washroom but all-in-all I think he had a good time!
Other than that I'm doing ok - lots of water keeps me filled up! Hubby and I have been moving furniture up and down stairs so that counts as a bit of a workout!
Kenna is running a mild fever so she is being really really sucky
I've decided I need a nice long bath tonight to relax a bit - Stager is coming back thurs with "stuff" so we have to be ready by then (moving things around and doing some minor painting)! Fingers crossed that this works!!!
I can't believe its 615pm already - may or may not be checking in later. Hope everyone is doing good and having a fantastic weekend!!
04-28-2012, 11:50 PM
---
DH and I went to a dinner buffet tonight where I had a delicious meal of non-breaded, pan seared tilapia & shrimp, roasted zucchini & red pappers, green beans, sauteed mushrooms, and three medium strawberries for dessert. OMG, it was delicious and I topped that off with decaf coffee with cream. I'm too lazy to log it, but I ate lightly, wisely, and on plan for breakfast and lunch. Snack was just an ounce of almonds and two SF chocolates. Also got in my exercise and water.
Cassie, you got that right. Figuring out my personalized nutrition needs is a lot like working a logic problem--or a jigsaw puzzle. Wish someone could just TELL me, but I know we're all different and our bodies respond differently. Thanks for your vote of confidence in me.
OMG, kids shoes are expensive--way more than what I spend on my own shoes. LOL on your son's driving, "which was good (in a nervewracking way.)" Aw, sorry 'bout your chicken not thawing in time, but taco salad is yummy. Kudos on changing your dinner plans and your log.
Mike, my granddaughter immediately said, "Well, Grandma, you're driving under the speed limit" (it was only two miles! Sheesh!) so maybe the vvrooming cyclist WAS just impatient, but he didn't flip me off or anything, so it was a courteous vvroom.
Jho, seems like little boys really do enjoy the trips to public restrooms. My son and grandsons all were that way. I hope Kenna gets well soon and that you enjoy that relaxing bath.
04-29-2012, 02:25 AM
---
Originally Posted by
01gt4.6
May is Motorcycle Awareness Month (I guess nobody has to pay attention to us for the other 11 months
)
I know many of y'all don't have a bike or know of anyone (besides me & Lizzie) with one. I made this sign and would appreciate it if y'all would post it in Facebook.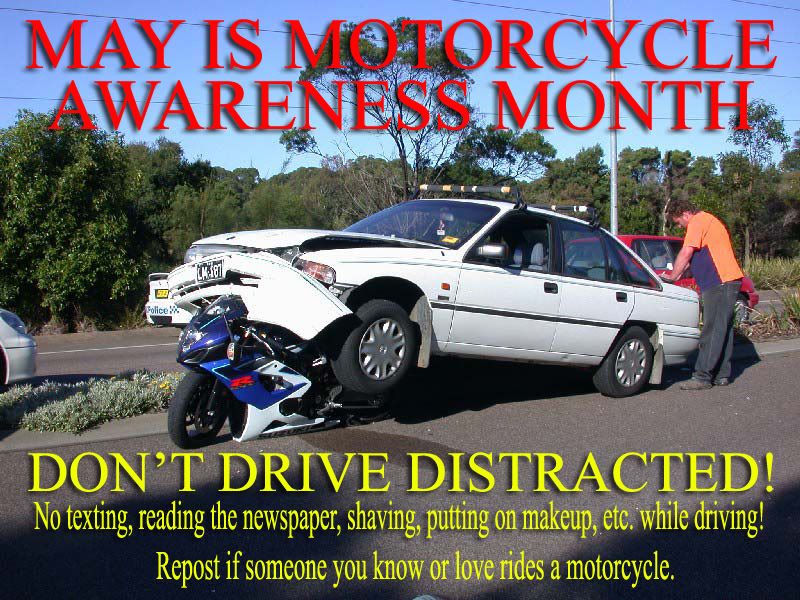 Yes, I purposely put the part about the newspaper after that
[email protected]
%hole earlier in the week.
I almost feel weird asking y'all to do that but you know what... I don't have boobs or know of anyone that died of
breast cancer
and y'all that know me know that come hell or high water 'll be trying to help save some boobies in October.
Which reminds me. I'd like to have one of y'all schedule a mammogram as a goal for next week and we're going to need 3 people to do self exams. Who's in???
My mammo is scheduled for 5/30. Who's Next?
04-29-2012, 02:32 AM
---
I dont' really have anything to post. LOL. Despite barely eating more than cottage cheese & fruit and then crab cakes for dinner I was up about a half pound this morning probably due to inflammation from my procedure. Today we went out to eat at Chili's so I know that I will be up again tomorrow. I did not log anything yesterday or today. Yesterday I slept off and on all day only waking to change positions.
Oh and once the weather breaks I am sure to be a bike widow for the summer.
Pics are on Facebook.