7-Day Motivational Thread Starting 9/5
09-05-2011, 12:47 PM
7-Day Motivational Thread Starting 9/5
---
Good morning, everyone.

The thread may not be very active today since it's a holiday in the USA--our Labor Day which is often celebrated with a cookout/grillout or picnic or some other get-together with friends and family that involves sharing food. Many may take a day off from their diets.

Mike, congrats on your race! You did fantastic and I noted you came in 13 or so minutes faster than your goal time. Way to go!


I'm modifying my saturated fat goal this week after I found it very difficult to achieve 10% of total calories as sat fat on a daily basis. The sense of failure and feelings of deprivation were not good for making that goal a lifestyle. I caved yesterday and used those feelings as an excuse for binge eating. Doc told me I don't have to be perfect, just do better than I USED to. So I'm changing my sat fat goal to something more reasonable and achievable--11% average which is still down 2% from what I achieved over the past two months.

This week's goals:

Fish oil and vitamin D
Exercise 5 days
Calorie limit 1600
Saturated fat AVERAGE 11% of total calories
Carbs less fiber limit 25g
Fiber target 30g per day
Six servings of veggies daily
Track protein grams and %

Water 64 oz.
Artificial sweetener limit 2 packets per day
Sugar free candy limit 2 miniatures per day
---
Last edited by Mern; 09-05-2011 at

01:13 PM

.
09-05-2011, 02:24 PM
---
Morning, Mern! I am starting with you today, holiday or not! I got so crazy busy last week I didn't keep up with my goals or check-ins, so I'm doing the same ones this week and adding making a point to log and post, no matter how busy I get. I'm looking forward to going back and reading through last week's thread and catching up on everyone's accomplishments! I've missed you all!
I was hit or miss with goals last week again. When I was good, I was very, very good, but when I was bad, I was horrid, as the rhyme goes. Looking to improve this week; hopefully I can get past the first hurdle, as I've just now pulled whole wheat biscuits and banana-honey muffins out of the oven
.
1. Calories capped at 1300.
2. Follow my pie chart rules (a reasonable macro balance, 25 g fiber, healthy fat twice the percentage of sat fat).
3. Sleep at least 7 hours per night.
4. 72 oz. water daily.
5. Exercise 6 times.
6. Do shoulder rehab exercises daily.
7. Log everything.
8. Post daily.
09-05-2011, 03:28 PM
---
Morning Mern!! I'm here, and I'm at work today too (I think I'm like the only one in the building...) though I am planning on having a half-day or so. The machine I work on takes near-daily maintenance, so I'm here regardless, though I am catching up on a lot of paperwork without interruptions and it's a joy, since I can sit and THINK for an hour without anyone knocking on ye olde door.
My goals worked out really well for me last week - they were a challenge without being unattainable, and I got rewarded this morning with a new low on the scale of 166.9! Woohoo! 165.2 and 50 lbs. lost are REALLY close now, and I am actually on my period so I'm expecting it to drop off even more once Aunt Flo leaves the building tonight or tomorrow. So, I'm sticking to them and seeing where they take me! I plan on working out big-time today since I've got the half-day at work and trying the longer Zumba workout. The beginner routine is only 22 minutes - I had to learn the steps, since they're dance moves, but I've mostly got the hang of shaking my butt, so I will try to up it today.
Weekly Goals
Food/Exercise/Lifestyle Goals
1) Achieve an average between 1200-1400 calories for the week (no single day over 1600)
2) Zumba and/or 30DS 3-4 times. Extra sparkly stickers if I work out 5 times.
3) Achieve a deficit of at least 5,000 calories
4) 80 oz. of water daily
5) Eat a serving of fruit or vegetables with every meal
6) Average 30% protein on the pie chart for the week
7) No more than 2 lunches and 2 dinners out
Other Life Stuff
1) Make an effort on my appearance every day
2) Tackle the mending pile (this didn't get done last week)
3) Remember to take some "time out time" for myself every day - an hour where I've got some solitude to wind down and relax
4) Book tickets this weekend for wedding!
5) Get some cross-stitching done - maybe post pictures for encouragement!
Rose: I just saw your pictures on the other thread, they are BEAUTIFUL! You have some real talent for light and movement.
Happy Labor Day, to those in the USA - Happy Monday to all!
~Terri
09-05-2011, 03:41 PM
FitDay Member
Join Date: Apr 2010
Posts: 2,269
---
Hi Guys,

May I join you?

Mern, honey, I think your goals being more realistic will be a big boost to you and will definitely make a difference by being more achievable and not causing almost inevitable backlash.

Cassie, so good to have you back. And I am in the "when she was bad she was horrid" category!!! This week (pardon my flooded basement pun) was a wash!!!!

Terri, you are doing great! Zumba looks like fun; I see people in my gym doing it and they sure look happy. And dancing is good for the head and soul as well as the body.

I am stuck with this 5 pounds I gained and my back is still bothering me. So this week I plan to:

1) log all food
2) stretch every day
3) drink water and lots of it (what is lots,hmmmm)
4) meditate
5) practice mindfulness
6) listen
7) write
09-05-2011, 05:34 PM
FitDay Member
Join Date: Dec 2010
Posts: 286
---
hey guys it's been months since i've last been here, and during my last time here i felt like i was getting alot more done by haven't it shown in a place where everyone else can see.

i'm just going to start simple for now since i'm just getting back into the groove of things.

Going to sign up for 2 12 week or so workout programs! one is going to be zumba not to sure what i'm going to pick for the other one. they start in two weeks.

and also i'd love to go swimming once a week too if i can. since swimming and the 2 classes would be a great workout every week!

Health Goals:
1. 3 Bottles of water (3 cups of water for the bottle i use)
2. wii fit 30mins everyday.
3. 10,000 steps everyday
4. no going out for food this week:

Life Goals:
-finish up commissions
-start going through stuff for moving
09-05-2011, 06:20 PM
---
Hello ladies.
Hope you all are enjoying your weekend. Down another half a pound over the last few days thanks to my runs outside. Plan on taking another 3-4 mile run tonight and then hit the gym tomorrow at work and will see you all back here on Saturday when I get back from CA.
Terri - I am so with you on making an effort in my appearance. For work, I can come in jeans. And since I work with all guys, I don't even care half the time what I look like. But I should and I don't do anything about it. I need to make that more of a priority when I leave the house...and not just when I am going out with the hubby or friends. Thanks for the reminder!
Also, I cleaned out my jean drawer with the pants that are too big. Instead of keeping them just in case, I am getting rid of them for good. So now, I only have three pairs, two of which I can fit into and one is for my end goal. But when I reach that, I think I can treat myself to a new pair or two.
Hope you all are starting the week strong and remember to keep yourselves accountable for any goals you set for yourself.
Ann
09-05-2011, 07:54 PM
---
No goals for me this week, but I have a prediction. I think when I make it back home, I'll be back to 174#. No worries though, I'll get back down when I get going!
Mern, Thanks. I agree that modifying your goal to put it within your reach is a good idea.
Cassie, being overly busy can get overwhelming. Keep pushing and you'll be all hit this week.
Terri, so so close to that 50 pound mark! keep up the good work.
Hope, I guess we'll let you join.
Nice goals, what do you plan on writing?
yunalee, welcome back to the group!
Ann, only love for thew ladies, huh? Hello to you too.
Congrats on another -.5, you should hit your 9/10 goal in plenty of time!
09-05-2011, 08:02 PM
---
Some pics for y'all.
The bestest place ever!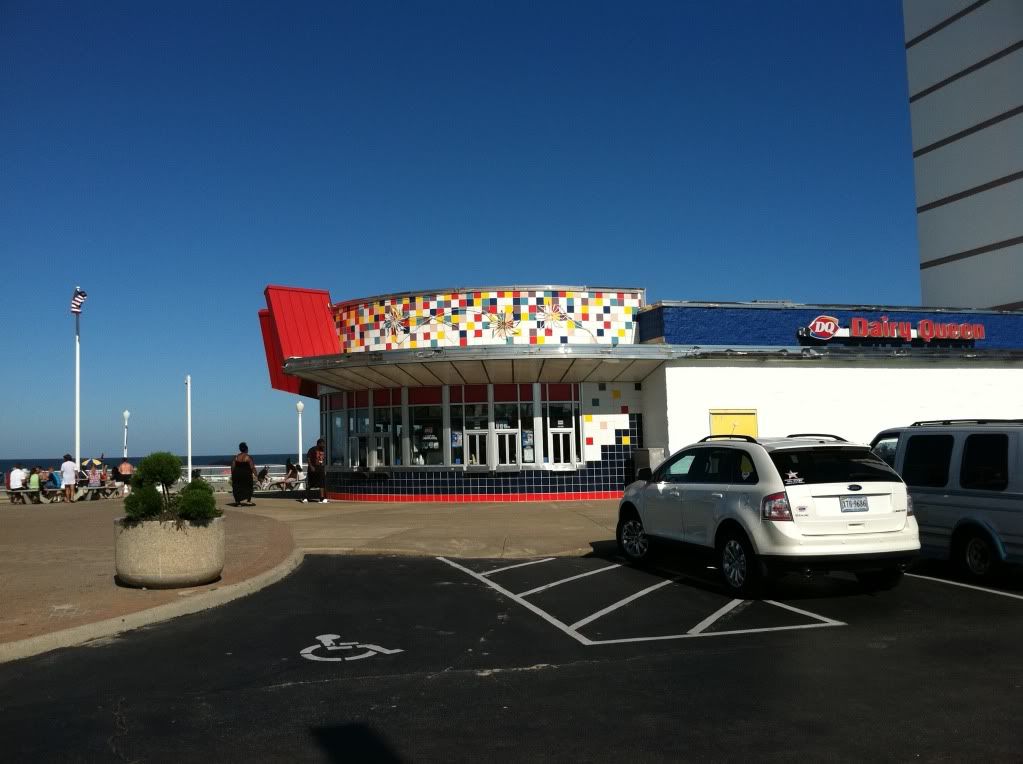 A sea of people that are about to be tortured.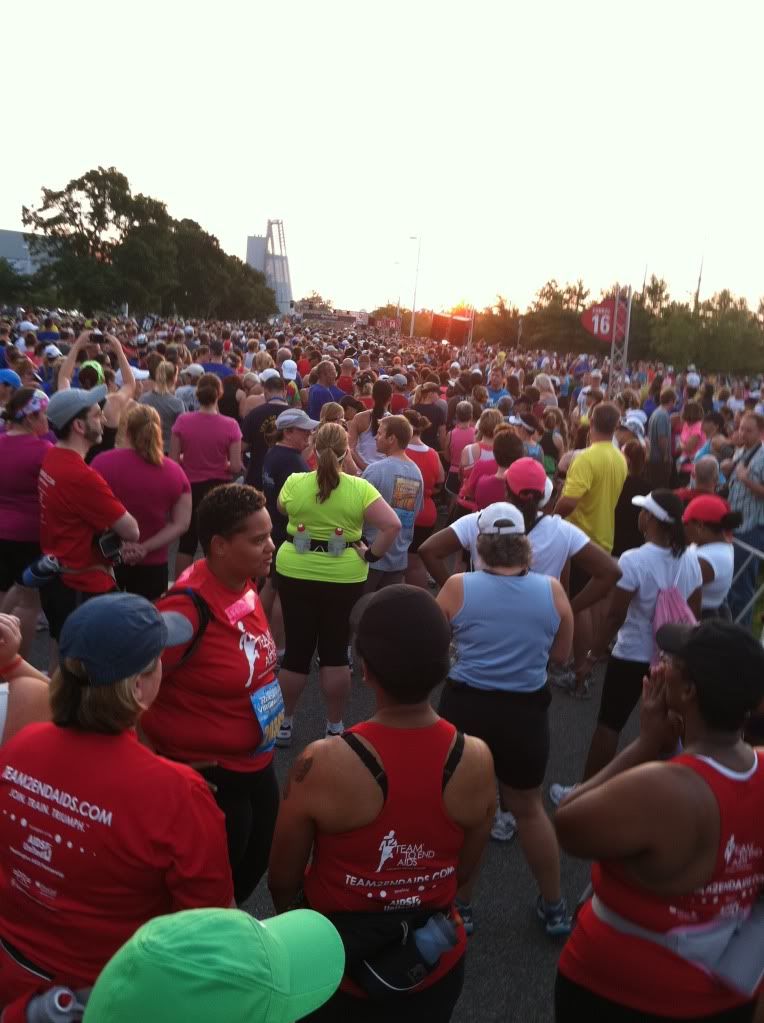 Ummm, what can I say here?
I was on pace for 3 hours, until I stopped to check my foot. Don't mind the time on the clock, that time starts when the race starts. Your individual time starts when you cross the starting line.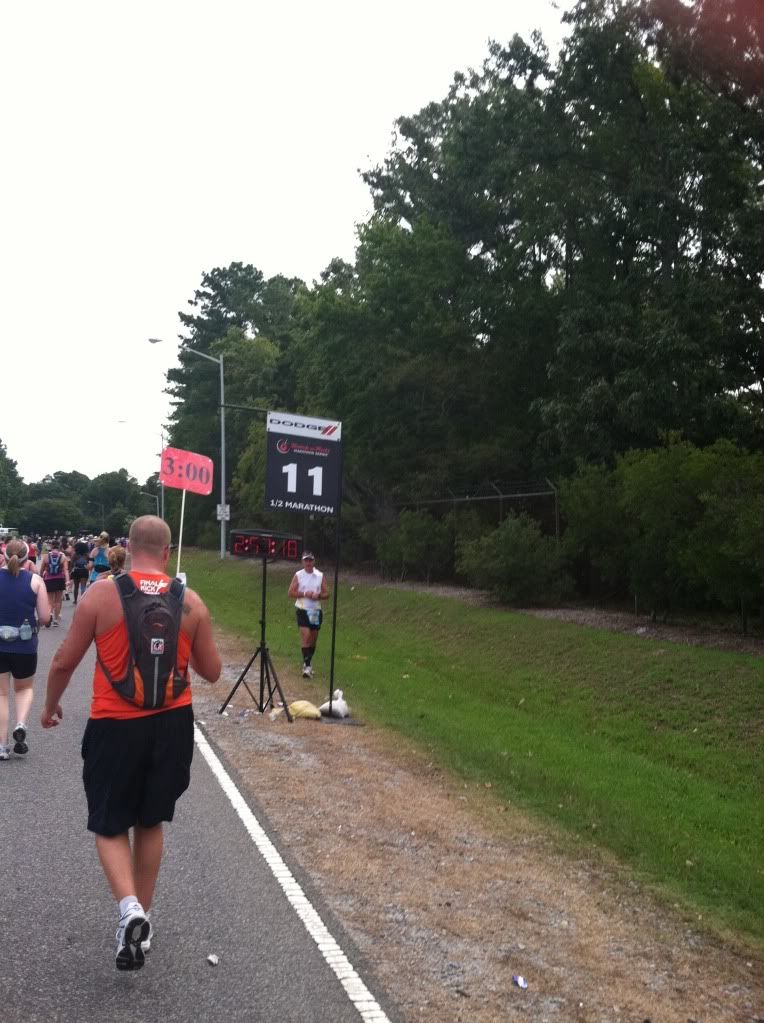 09-05-2011, 08:05 PM
Goals + Monday check-in
---
Hi Everyone!
Happy Labor Day to all my North American friends. To celebrate, I put the labor back into Labor Day by going to work today. Here in the UK, there is no such thing as Labor Day.
No biggy though, I had a really great and productive day. I woke up early, hit the gym, worked hard and now just enjoyed a lovely dinner. I consumed a few more calories than I would have like but I am using Terri's method of achieving an average for the week, rather than capping myself at 1400 calories every day. If I have less tomorrow I know I'll be okay by the end of the week.
My goals this week:
1. Achieve an average between 1100-1400 calories for the week.
M: 1476
2. Exercise 5 times.
M: 1X (total so far: 1)
3. Drink min. 1.5 litres of water per day.
YES
4. Achieve a deficit of 7000 calories for the week!
M: 946
5. Take my vitamins.
YES
6. Sleep 7 hours.
YES
7. Average 30% protein for the week.
M: 28%
Mern,
thanks for starting us off this week! I think it's a great idea to modify your goal to be more achievable in the long term. You are smart!
Cassie,
I have missed you terribly! So glad to have you back! Those are some good looking goals you got there!
Terri,
thanks for the compliment on my pictures. I love taking pictures and I am a big nerd with my iPhone. I actually have interchangeable lenses for it. They are so cute and so little. I also have a nice high res camera as well but I'm saving up to buy a Canon 60D with a really kickass lens.
Your goals look great by the way! And CONGRATS on your all-time low weight! Awesome news!!!
Hope,
so nice to hear from you. Again, I'm sorry about your basement and don't worry, your 5 pounds will be history in no time!
yunalee,
welcome back! Way to go signing up for the classes! Let us know how you like zumba!
Ann,
have an amazing time in CA! Way to go on all the running! You are doing great!