7-Day Motivational Thread Starting 4/4/11
04-08-2011, 11:03 PM
---
Health & Fitness Goals:
1) Log food and report every day even weekends
yes
no (reported but didn't log everything)
yes, yes
2) work out 3 times-strength
no
yes
no,
yes
3) Spring's here... resume daily neighborhood walks. (use my own dog
)
no, no, no,
yes
4) forget the pie chart
yes, yes, yes, yes
5) take magnesium supplements
yes, yes
no,
yes
6) Feel good about the progress I've already made and not get upset if I have a setback!
yes, yes, yes, so so
7) Water (128oz/day)
yes,
no
yes
no
8) Don't eat out
yes,
no,
yes
no
9) 3 days 5 minute Jump Rope
no, no, no, no
10) 5 fruits/veggies daily
yes, yes, yes,
no
11) Protein powder after every workout - in a smoothie!
N/A, yes, N/A,
no
Non Health & Fitness Goals:
1) Smile more, bitch less
NO, NO, NO
yeah
2) Reconnect with old friends
no, no, no,
yes (had lunch with my dad, this was a big deal!)
3) make some money
no, no, no, no
04-08-2011, 11:28 PM
---
Thanks everyone for the support! I know I haven't been very active on here lately. I'm starting to feel like this all sort of ties together... the bad moods, anger, bad eating, not caring, not being accountable, all of it. I'm going to try to play a little catch up.
I've been doing a new exercise that requires balance and a pair of dumbbells. I think that some of y'all would enjoy it. It has to work your ass b/c the next day the upper part of my ass is sore. It's hard to describe but simple to do. If anyone is interested, let me know and I'll post up a pic of how to do it.
crimpet, that sounds like a lot of crap to go through. Kids in HS can be so cruel.
cassie, what are your spring break plans? Are you and the girls from here going to meet up and go partying?
AceofCurls, Looks like you are doing very well with your goal, I'm envious! Good job on not drinking.
almeeker, I so wish I had nice teeth. Royalties would have been nice, but you know how that goes.
acameron34, what kind of shake recipes are you looking for?
quinn, besides the car wreck, it looks like your having a pretty good week. Are you having any issues with the insurance company or is everything going smoothly. If anything seems fishy or you have any questions just let me know. I don't work in claims but it's say to say that I have a good idea of how the policies work.
hope, I live with a house full of girls, plus both dogs are girls!!
You are killing this week. Way to go... maybe I should make you another ribbon.
Terri, great job on the -3023 cals! I hope you can enjoy your day off tomorrow.
Mern, you are having an incredible week!! Keep up the great work? How's the hubby doing??
Julia, any special goal that you'd like to hit by next April? Congrats btw.
04-09-2011, 01:09 AM
---
Mike, I know you have a lot on your plate (your LIFE plate, I mean--not your dinner plate) and it's great that you decided to take your mind off your troubles for a bit and play catch up with this group. Doing that could prove to be somewhat theraputic. I hope it helps you. It really made me feel good that you noticed how well I'm doing this week. I weighed this morning but almost an hour and a half after my regular time, so didn't record the weight loss yet. But I'm going to weigh again tomorrow and will be thrilled if what I saw on the scale today was for real--possibly a 1 1/2 lb. loss since Monday. I'm trying to speed up my metabolism by drinking more water and adding flaxmeal to my protein shakes. The extra flaxmeal is really curbing my appetite between meals. Hubby is doing great--thanks for asking. He did his 3 mile walk this morning and then headed for the golf course.
Canary, our tulip poplar in the front yard drops yellow pollen, too. Last year was the worst since we've lived here--38 years. Wow, that's great that you're feeling better by sticking with your fibro diet. And yes, your can do attitude counts for bitching less and smiling more--but we never took your statements about feeling poorly as bitching. We don't take anyone's venting as bitching. If people can't vent, their heads might explode.
Julia, your attitude toward things going wrong is so mature! Chalking things up to a learning experience is so hard for many of us. Maybe the discipline of your work combined with your upbringing has a lot to do with that.
04-09-2011, 04:57 AM
---
Well, back from ziplining and NO ONE DIED!! Not that I didn't almost pee myself. Those things are really high! Actually it was just the jumping off the first one that was a little nerve-wracking, kind of like that first big roller coaster hill. After that it was extremely fun.
ROFL at almeeker's braces...and mom...somehow the description made it so vivid! We all think our parents are quirky, but I've never met anyone with a do-it-yourself suture kit: "Hold on! I can't go home yet! I've got to hurt myself a little worse first!"
acameron, not a fun time for your mouth, either. I've taken a tennis ball to the face at short range and that was bad enough; can't imagine anything harder.
Ace, good advice; my husband didn't wear his retainer as he should and his teeth went right back to how they were. I can see myself becoming the retainer sadist.
Hope, look at you sneaking in with your excellent goal achievements. You blew the curve for us this week, lady! My sinuses are killng me also, in part with this cold but also the pollen. Everything here is yellow from the pine pollen; it's totally gross, but better this year than in the past because it's been rainy.
Terri, enjoy your well-deserved day off! Any plans? I know it will feel good to get rid of some of your too-big-now clothes
Mern, you've done an awesome job on your goals this week also. Raising the bar for us, as usual. I'm glad it's paying off for you.
Quinn, your juvie psychopath sounds right up my alley. But I promised myself not to think about work till Monday, so enough said. I've not had a nice scale week either, but I did it to myself last week and Tuesday and I know what I need to do now, so onward we go.
Julia, like others, I'm so impressed with your great attitude. I always am, actually. I need to channel your brainwaves sometime!
Mike, as they say, two outta three ain't bad. Good work on your bottom goals today. I'm glad you were able to have lunch with your dad. Family is often complicated. If you can get a pic up of that new exercise, that would be great. I feel like I had a bad ass day today...probably the result of languishing around not exercising all week. Since I can mostly breathe now, that stops tomorrow
Sorry for turning this into a novella. I feel like I haven't kept up very well this week. Will try Cliff Notes next time
1. Stick to calorie goal.
Yes,
No,
Yes, Yes, Yes
2. Keep carbs at 50% or below.
48%
No,
50%, 50%,
51%
3. 3 sports bottles of water.
Yes, Yes,
No-throat too sore to drink much, No but lots of tea, No
4. 5 fruits and veggies daily.
Yes, Yes, Yes, Yes, Yes
5. 7 hours of sleep a night (at least).
Yes-a whopping 8!
No-6.75, no-6,
Yes-7, Yes-7
6. Log everything, even cough drops.
Yes,
No,
Yes, Yes, Yes
7. Monday...plan Spring Break week schedule...written down, not just in head!
Yes
8. Second coat all upstairs doors by end of weekend.
Not yet
9. Annual Spring Break clearing of closets and dressers.
Likely be the start of summer break chore
10. Finish all work (including outstanding billing) by Wednesday; take Thursday & Friday off.
Yes
11. Find/order faucets for bathroom sinks & tub.
I may wait until I'm done throwing money in other directions
12. Get strawberries and herbs going; it's late!
Not yet
04-09-2011, 03:35 PM
---
Mern: Thanks very much, and thank YOU for the great funny comment
My day off is Sunday (Symposium today, have to sit through a bunch of talking heads...) and I intend to make the most of it! And maybe I will take a picture of myself holding kitty litter if I can get over my camera shyness. Also -- you will DEFINITELY be down 1.5 lbs. still tomorrow, you have been killing it on your goals!
Hope: Aw, thanks. We're all supportive here, that's why I love it! We should all get a break -- how would you like to come to FL and get to the beach?
Mike: I'm always interested in new exercises, and anything that works the butt is a plus!
Thanks for the encouragement on the cals -- not sure if I'll hit 7000, it'll be close!
Cassie: Plans for my day off include cleaning, and uh...more cleaning, watching the Red Sox, buying my makeup/flatiron, and having a charcoal grill-date for dinner with the BF. Just being able to NOT get in the car to work will feel like the best part of the day off I think! Also, WHOOOOOO on the ziplining! Sounds like you had a blast!
Friday Report Card
Food, Exercise and Lifestyle Goals:
1) Achieve a 7,000 calorie deficit by the end of the week (through a combination of eating and exercising)
M:
-771
T:
-647
W:
-1,136
Th:
-469
F:
-1,014
(week total = -4037)
2) Do not take off two days in a row from exercising.
M:
Day off
T:
Unfortunately, I did not exercise
W:
15 minutes cardio, 45 weights!
Th:
Day off
F:
Walked roughly 2 miles after work
3) Achieve a 35% protein average for the week
M:
21%
T:
20%
W:
29%
Th:
20%
F:
23%
(weekly average 22.6%)
4) Carbs at or below 50% average for the week
M:
50%
T:
46%
W:
48%
Th:
45%
F:
51%
(weekly average 48%)
5) Protein powder after every workout - in a smoothie!
M
:
N/A
T
:
N/A
W:
Yes!
Th:
N/A
F:
Yes, a small one
6) At least 96 oz. water daily
M:
yes
T:
yes
W:
yes
Th:
No!
F:
yes
Other Life Stuff
:
1) Laundry, laundry, laundry -- put away, ironed, spring cleaning and donation of clothes I simply no longer want to wear!
M:
Put away two whole baskets!
T:
Nada
W:
Ironing got done!
Th:
Nope
F:
Nada
2) Buy new makeup and a flatiron for the disaster of hair on my head
M-F:
No, weekend
3) Buy small Easter presents to send to family
M-F:
No
4) Balance savings/expenditures (this is a weekend goal, won't be updating until then!)
M-F:
N/A
5) Work on my embroidery for at least five hours this week
M-F
:
No
6) Don't worry, be happy!
M:
Was in a great mood yesterday!
T:
Utter failure
W:
I did better, but still had a bad day
Th:
Yes, much better day!
F:
Yes!
I had every intention of working out harder than I did yesterday, but there is a symposium here at my school this weekend, and the graduate students in the lab that I work at were presenting posters of their research - I attended for moral support, and didn't end up getting home until about 8:30. It was a beautiful night here in FL though, so BF and I decided to take a walk. It was an enjoyable impromptu date -- so even though I wasn't slaving away on the elliptical, I think that my body might have appreciated the nice walk with a good companion.
And! The Red Sox finally won yesterday! Woohoo! Here's to a great weekend for everyone!
~Terri
04-09-2011, 04:39 PM
---
Friday Report Card
Health & Fitness Goals:
1. Eat clean and kept calories 1,350-1,850 all week.
2,326,
1,499, 1,801, 1,667,
3,107
2. Drink 96 oz of water.
YES, YES, YES, YES,
NO
3. Exercise 6 hours.
42 min, 0 min, 62 min, 121 min, 60 min (total 4:45)
4. Calorie deficit of 3,500 for the week.
+116,
-603, -458, -1,088,

+782

(total -1,251)
5. Carbs 45% or lower, Protein 40% or higher.
(58% c / 13% p),
(28% c /
36% p),
(35% c /
24% p),
(43% c /
34% p), (50% c/ 16% p)
6. Log food and report every day even weekends.
YES, YES, YES, YES, YES
Non-Fitness Goals:
7. Get DD practicing for State finals (without too much nagging).
A little,
NO, NO, NO, NO
8. Sign up for Summerfest Race.
NO, NO, NO, NO, NO
9. Call my grandmother and aunt.
NO, NO, NO, NO,
YES
10. Call the eye doctor and read her the riot act.
NO, NO, NO, NO, I actually called but did not get through - twice.
11. Be a fun and entertaining mom, (kiddos are on Spring Break).
YES, took the kids to see the butterflies exhibit and out to lunch. YES, took the kids shopping for shoes and out to eat. Maybe, I'm trying to teach them how to sew, which is a lot harder than I thought.
Not so much, the baby screamed his head off for 3-4 hours, and I'm not exaggerating.
Yes, helped the kiddos sew pajamas, little DD's are now finished (super cute) and she wore them to bed once already.
Yesterday I was doing really well until dinner time. It was a Lenten Friday, which means either seafood or veggie around here, so we made pancakes and waffles for dinner (the kids are still on an ihop kick). I was planning an omelet for me, but ended up eating the pancakes and waffles (because the kids did the cooking), and that's when things got ugly, because when I eat homemade Bavarian waffles, they must be smothered in Nutella and strawberry freezer jam or swimming in butter and real maple syrup. So I ended up with a hard carb crash in the middle of the night and got up and made a plate of nachos
. I don't know about the rest of you, but in my world being sleep deprived does not lend itself to willpower. I also did not get in my water yesterday, instead I drank a 2 liter of caffeine free diet Pepsi, so for about 12 hours I lived with a full contingent of my old habits. Alas today I'm paying the price, I woke up this morning with swollen fingers, feet and achy joints. But today is a new day, I've already been for a nice long walk and chugged down 32 oz of water, and I'm headed for another jug in a minute.
---
Last edited by almeeker; 04-09-2011 at

04:41 PM

.
04-09-2011, 04:40 PM
---
Hahaha! Lucky for you, I'm not a Yankee-hating Sox fan. I'm all about the love.
I have to say - good offense, terrible pitching on both sides yesterday. I hope Hughes finds his old form (cause it's always better to beat those in their top form
) Sox just had a few more hits find the gaps.
04-09-2011, 05:10 PM
---
Cassie, great job on your ziplining trip. That sounds like a lot of fun. We've never been, maybe when the youngest gets a bit older. I'm a big fat chicken when it comes to heights, so pretty jealous over the fact that you went and were able to let go and fly down the line. Very cool. When I think about doing something like that I envision myself acting like a wild barn cat about to be dropped into a washing machine. There might have to be sedatives involved
, I'll have to see what mom has in her medicine cabinet
. My mom
is
quirky in her own good way, and given that she's a talented seamstress on top of being a nurse, well the suture kit in the fridge is more practical than it is quirky. But I gotta tell you the mileage my brothers and I enjoyed in joking about it over the years was worth every lineal inch of cat gut in the fridge.
Mern, looks like you've had a great week. Kuddos girlfriend.
Terry glad you finally got a day off, and I can soooo relate to the cleaning cleaning and more cleaning. Jealous as all get out on the nice weather in FL, it's warming up here, but still not what most people would call "beautiful" (although quinn might...). Don't knock walking as a workout, I know quite a few people in great shape, and most of them use walking almost exclusively.
Mike, I'd be interested in seeing an exercise that works the upper behind. That's where I'm keeping the last bit of my love handles.
Julia, you do have a great attitude, being able to "roll with it" is seriously good for your health.
acameron, are you my sister-in-law? The one that takes a blow to the face annually? Ouch, that sounds awful.
04-09-2011, 05:55 PM
making lemonade out of lemons
---
I'll take that picture today and get it up.
Well I have a passion for cars and photography, so I decided today to have fun with both. Seeing that I can't afford to travel around the world and drive various race cars or take pics of them I decided to do the next best thing. I sat in front of my TV and played Gran Turismo 5 on the PS3. I used a few of my many cars b/c in my Playstation world, I'm a baller. hehe
Then I went in to photo mode and took various pics from different angles, shutter speeds, various focal points (kinda like a real camera) then saved them. I put them on my computer, made a subtle boarder around the pictures. My goal was to try to make a video game look like the real deal. Here's what I came up with...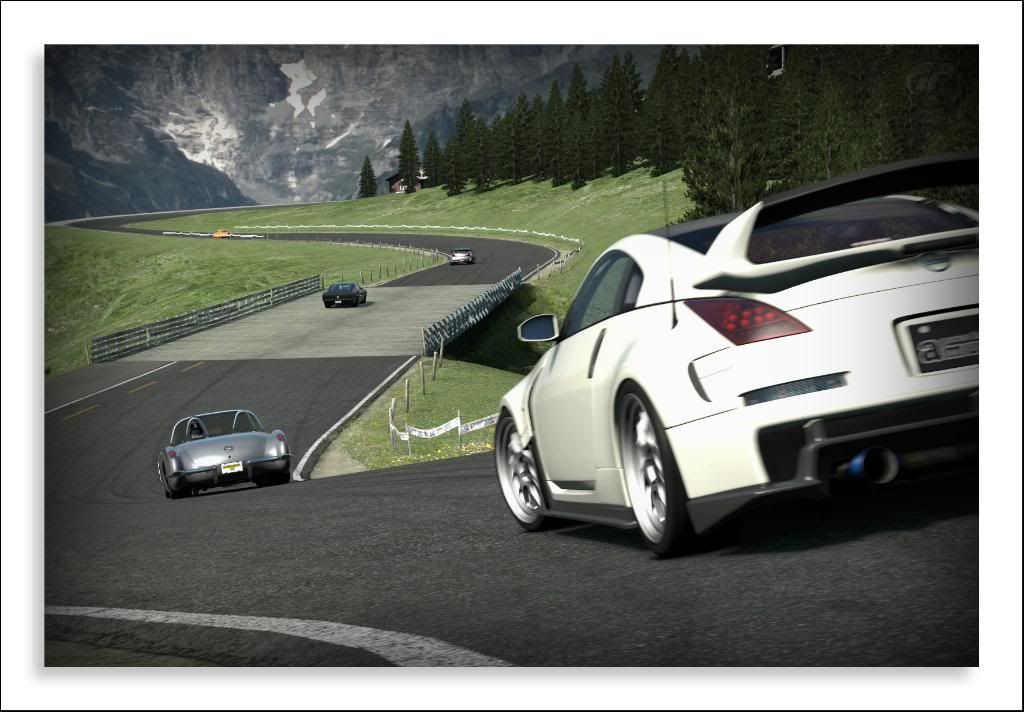 any Nascar fans?