ALL ABOARD THE BRAGGIN' WAGON!! 7-Day Motivational Thread Starting 09.24.12
09-24-2012, 03:12 PM
---
I was going to tease Tori and ask how many days it is until WHN comes home, but I see Cassie already beat me to it.
Tori, bragging about one thing we did well each day this week sounds like fun. Can't wait to read what others will have to post.
Everyone has really nice goals. Except for reduced dietary cholesterol, I'm going back to my old goals which seemed to have worked better for me.
Calories maximum 1500
Sat fat average maximum 12%
Protein average minimum 120g
Dietary cholestrol average maximum 250mg
Net carbs (after deducting fiber) 25g
Fiber average minimum 25g
Exercise 5 days
Water 64 oz.
Limit 2 Hershey sugar free dark chocolate miniatures
EARN those braggin' rights
Hardest one: Evening snack that won't sabotage my otherwise on-target day
Headed to the Y for cardio class. Big hugs to all along with best wishes for braggin' rights.
---
Last edited by Mern; 09-24-2012 at

04:51 PM

.
09-24-2012, 04:19 PM
FitDay Member
Join Date: Apr 2012
Posts: 26
---
Cassie, I just don't eat anything with flour, corn, rice, oats, or potatoes. I do eat vegetables and fruit, both of which have carbs. So 'no starches' helps me for now. Since my husband has been ill, I have slowly gotten our yard in shape and like it enough to plan a fenced-in garden. Now to get rid of the fire ants!
09-24-2012, 04:30 PM
---
Goals Week of September 24th
1 - Lots of Water:
2 - Lots of Sleep:
3 - Lots of Veggies:
4 - Lots of Exercise:
5 - Less Bread:
6 - Less Meat:
7 - Lose 1lb this week:
8 - Tori's Bragging Challenge:
I put my on new favorite jeans yesterday and they were definitely a little snugger (and pretty darn uncomfortable) around the belly than they were the week before… I have been indulging way too much lately! The scale says so as well, sigh… I call shotgun in the wagon!
Tori – YOU GO GIRL!!!
Quinn – I am with you on the 5 outa 7 plan! Why beat myself up every Sat/Sun? I can be really good 5 for sure! Great plan!
Happy first week of Fall!
Ama
5'6" 40yo
2lbs over Maintenance
09-24-2012, 05:20 PM
FitDay Member
Join Date: Feb 2010
Location: Westminster, CO
Posts: 965
---
Since I'm late posting these thought I would finish out last weeks results along with my new goals.
LAST WEEK:
GOALS:Join the 7 Day Thread: DONE, (maybe some regrets, lol)
Calories < 1700:
2235!, 1831,
1761,
1580, 1640,
2048,
1763
Workout 3 days:
NO, NO, NO,
YES,
PASS, PASS
Giving my self a Pass for Saturday and Sunday as I was on my feet all day working our booth at the Denver Gun Show.
THIS WEEKS GOALS:
Calories < 1700:
Workout 3 Days:
Mern: Thanks for the prodding about my workouts. I always post them in the 'Did you Exercise Today' thread in the Exercise Section. You can look for my posts there and you're welcome to join us too.
As bad as I did on my goals I did manage to hit my mini-goal and am now under 225 lbs.!!!!
YEAH!!!
09-24-2012, 09:40 PM
---
Hey everyone. Well I have a horrible cold and wasn't able to work out yesterday and not doing anything tonight either. Still managed to run three miles on Saturday but that's about it. Going to take it easy and hopefully be able to feel better tomorrow to get a workout in. Something to brag about....didn't eat any of the cupcakes that I made over the weekend, as well as still ate healthy even at a family paty. So happy about that. Hope you are all off to a great start of the week!
09-24-2012, 10:33 PM
FitDay Member
Join Date: Aug 2012
Location: CANADA
Posts: 39
---
Nice thread
I would like to brag about my splendiforous day of eating clean; oatmeal, berries, protein powder, almond milk and walnuts for breakfast, apple for snack, lean turkey on whole wheat with low-fat mayo and 1 cup of butternut squash soup for lunch, yogurt for snack and ... wait for it ... brussel sprouts, sweet potato and scallops for supper.
I know, right? ha ha ha That's just me being silly. But it does feel good to be back on track after a couple weeks of "silly" eating.
09-24-2012, 10:42 PM
---
Hi everyone! Hmmm, Tori - braggin' rights, eh? Every day? Do they have to be diet/exercise related? 'Cause today I FINISHED painting the trim on the windows in my living room - and considering the length of time it took (thanks to a variety of family, etc issues), I am pretty darned proud of the fact it is DONE!!!

The scale continues to inch in the right direction, in spite of my dietary inconsistencies (too few calories, too many calories, too many carbs, not enough protein). Maybe my body is so confused it stopped fighting me? Who knows.

Yesterday: Calories: 809 Fats: 36.5 Carbs: 71.1 Proteins: 58.1
Today: Calories: 1,730 Fats: 116.1 Carbs: 55.4 Proteins: 124.7

Hey, Mike & Tori - I have come up with several possibilities regarding the actual meaning of DB - none of which are very complimentary...glad you guys have such an understanding and unique relationship! verrrry unique...

Goals? I guess the usual - supplements, journaling, keeping track on here of my calories and macros.
09-25-2012, 12:20 AM
---
Time to brag!
1. Today I went to NOLA first thing this morning. Walked around with GF and grabbed some lunch. We had a great time and I got to snap some pics.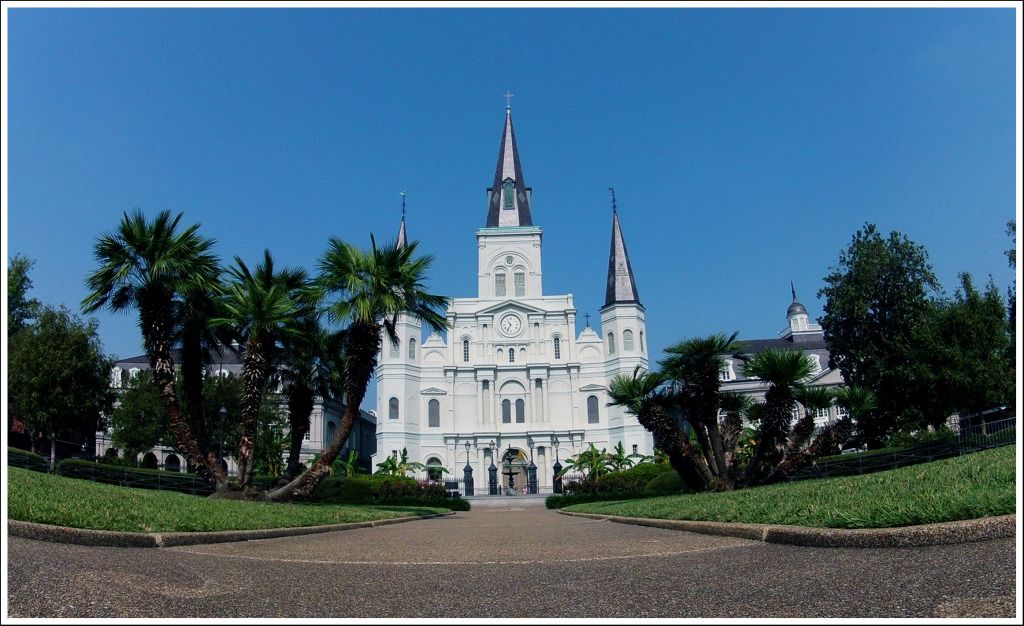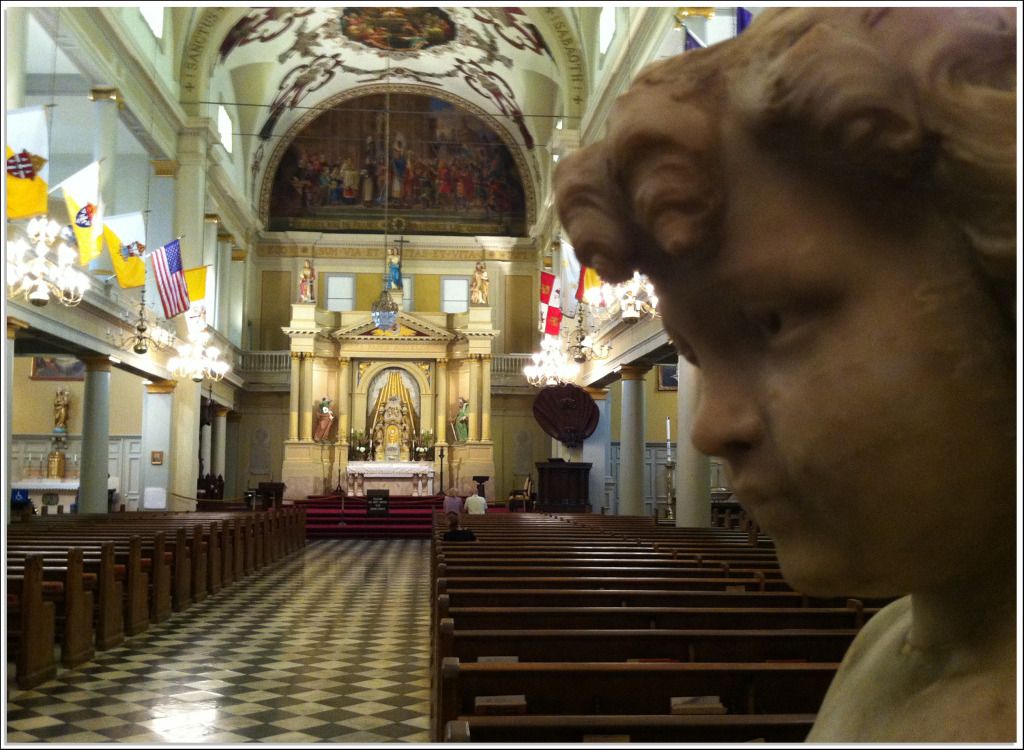 On the down side I had a skrimp poboy and fries for lunch, oh well for watching my carbs, right?
2. I wrote a policy and saved my client a TON of money!
3. I made Tori awww... out loud!!!
09-25-2012, 01:25 AM
---
Tori

vs.

Mike

Goals

1: Post start weight, log every damn thing that goes in your mouth, make logs public

180.8

-

--

187.2

http://fitday.com/fitness/PublicJournals.html?Owner=01gt4.6

2: Most calories deficient

-1070

-

--

-370

3: Most water consumed

58.7

-

--

101.4

4: Most miles walked

0

-

--

1.55

5: Fewest net carbs

95.4

-

--

316.6
6: Fewest servings of bread
1
-

--

2 or 3?
7: Highest % of weight lost
Bragging:
Tori avoided the pizza at the buffet!!
---
Last edited by 01gt4.6; 09-25-2012 at

01:49 AM

.