Keeping my head above water
01-19-2011, 03:08 PM
Keeping my head above water
---
Having an icky week, well icky few weeks to be honest. I have major overtime this week, 5 days for 42 hours instead of my usual 3 days for 30. Yesterday and today I don't have to be in until noon, was GOING to drop the boy off at daycare when the daughter gets on the bus at 8, then hit the gym and do some housework so I don't get too far behind. Snow day yesterday, 2 hour delay today, no gym or housework done. I only have to work 5 hours today, but Thursday and Friday are my normal 10 hour shifts. I'm already exhausted, I hope I make it. Between the extra time on my feet and the cold damp weather, I feel like I'm 90. Arthritis sucks. Going back to the doctor Monday, feels like I'm either going another round with depression, maybe anxiety, maybe mid life crisis but I haven't been sleeping right for a few months and that's beginning to get to me too. I hate winter, but when I lived in California I really missed the changing seasons.

The kids are going to grandma's this weekend, I've been wanting to clean out their rooms and weed out old clothes and toys for months, but I just can't seem to do it with them underfoot. Here's hoping I do more than hold down the couch when they're gone.
01-19-2011, 07:44 PM
---
Thought I'd pop into your post To say hi. Hope things start looking up for you, I've been there with depression and anxiety and it's like wading through a fast flowing stream against the current at times. About the weekend, there's more than the choice of housework or slobbing. You should try and get out even if it's only for a walk around the mall window shopping and a coffee. Or if that sounds too energetic, promise you'll only do some housework and then allow yourself a pamper evening, wallow in a bubbly bath, do you nails etc, flick through some magazines, enjoy some me time.
01-20-2011, 01:36 PM
---
Lizzy,
If it helps, I've had a similar week. Right now, it's 6 below, my furnace went out and I'm typing this in a ski jacket and fingerless gloves at my dining room table waiting for a repairman... lol. Sometimes you just have to laugh because there are no other good alternatives. I think you're in Michigan, too. Lack of sun is a major issue for me in winter months. I placed a comfy reading chair in a south-facing, sunny window and that really helps when it's too cold to do much outside. When that fails, large quantities of wine are also helpful... that's actually my plan for tonight!
quinn
01-20-2011, 04:04 PM
---
Ah Lizzy,
Sounds like you need some serious downtime, some good old fashioned real rest.

I, obviously, only know you from your posts, but after a year of them I am pretty sure that you are one of those sensitive and nurturing souls that from time to time just needs to be a little selfish, to take a little more time for yourself. Your connection with animals, your kids, and joys and hardships of being married to an LE officer (I am sure that there is a special place in heaven for law enforcement wives) all seem to point in that direction.

I sure hope you can make a deal with yourself this weekend that will allow you get a few things checked off the list, but still allow you some couch time without guilt or remorse.

Spring will eventually come...really!

Pam
---
Last edited by RunbikeSki; 01-20-2011 at

04:05 PM

. Reason: spelling
01-20-2011, 04:46 PM
---
Hopefully you can have some quality COUCH time and CLEANING time (they both begin with C! They can totally have a relationship)

I hope that you feel better soon - winter can be a huge downer! Just makes you wish you were a big bear so you could curl up and hibernate without remore!
01-21-2011, 12:13 AM
---
Hey Lizzycritter! Sounds like the winter blues. I hate that!
The other day was a wet, freezing, icy mess. I decided since I couldn't control the weather I would make the most of it. I got bundled up, put on my snow boots and hit the pavement! I jumped in every slushy puddle I could find, walked, ran, acted like a kid. I was a freezing wet mess in the end but I had SO MUCH FUN!!!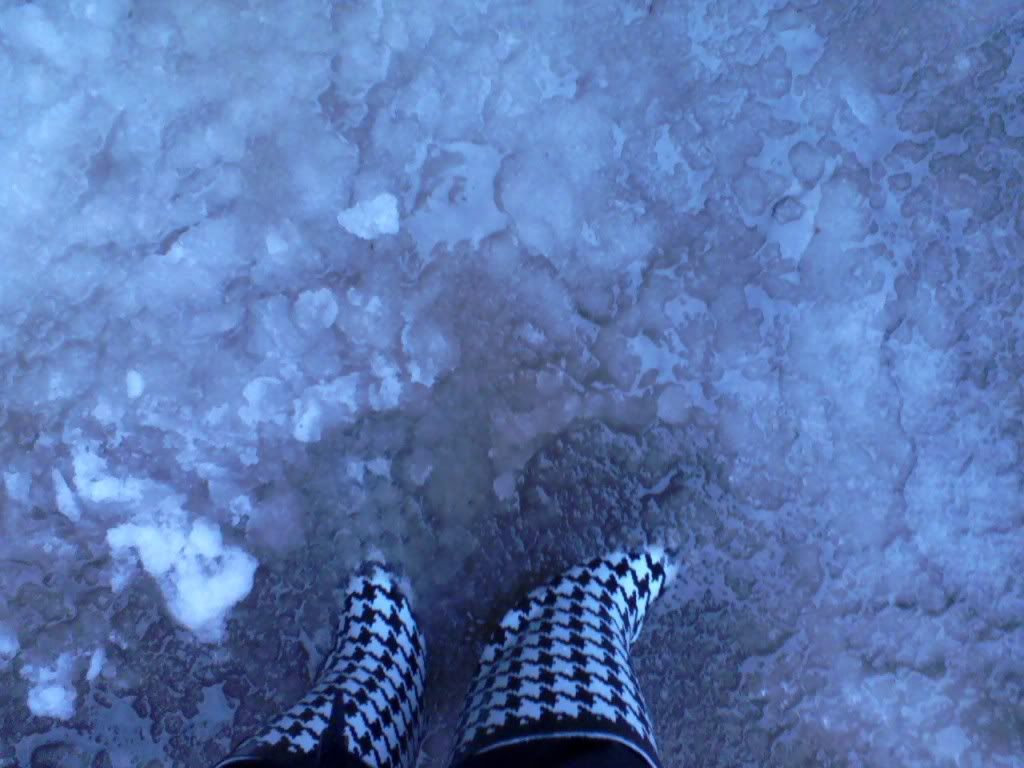 ---
Last edited by vabeachgirlNYC; 01-21-2011 at

12:15 AM

. Reason: WOW, the pic is huge???