Reached my goal - what's next?
05-05-2011, 01:02 AM
FitDay Member
Join Date: Mar 2011
Posts: 11
Reached my goal - what's next?
---
Hi everyone;
I am very happy to have reached my goal. I feel great and all that hard work and slow progress was worth it! But I have been wondering how to go about setting new goals - goals that are healthy and realistic. It is important for me to have goals otherwise I can see I might quickly go back to bad habits and be right back where I was a year and a half ago.

I think my goals are around being strong and toned but I don't want to work towards a body builders body. I also like to run but don't have any interest in a goal of a marathon.

Do I need to hire a professional to help me set some healthy goals? Any thoughts out there?

cwyuill
start weight 150 lbs
goal achieved (current weight) 135 lbs
time it took: 1.5 years (I know - very slow)
05-05-2011, 12:16 PM
---
Way to Go!! I think a goal of continuing to journal your food and exercise would be good. One of my friends has a goal of keeping her weight within 5 pounds of her "goal weight" so she will occasionally get down below it if she knows a holiday is coming up. I agree that new goals are important as I have regained too many times. Maintaining requires as much - if not more- support. Good luck and I look forward to seeing what goals you set. I hope to have to set my own maintenance goals in a few months. Mary
05-05-2011, 12:25 PM
---
For many people the maintenance phase if often harder than the losing phase. Just as you hint at, during the losing phase you have a goal that you are woring toward. During maintenence you are just kind of hanging out - or so it seems.

I think you idea of shifting from a focus on the scale to a focus on fitnes is a great one! Toning can take all kinds of forms, running and other aerobic activities, resistance training and other weight lifting activities, or various dance-type classes, yoga, organized sports... the list is pretty long. The trick is to find one or 2 that you really enjoy and can stick with. It frequently takes a lot of testing, and most of us find that after a couple of years it is time to move on.

Many communities, churches, schools, and other organizations offer classes or clubs, so check into it, sign up or join, and find something that fits your lifestyle.

Good luck! in many ways the hard work is over, now it is time to reap the benefits of you new body.
05-07-2011, 08:51 AM
FitDay Member
Join Date: May 2011
Posts: 59
---
I am just guessing here, but I'd imagine that slow weight loss is also more likely to mean that you will keep the weight off without too much trouble, and the main thing is that you got there.

How about finding a sport that you actually enjoy and find interesting? A friend of mine is a keen climber, for instance. Alternatively, I know that listening to audiobooks on an MP3 player while walking is great, does it work for running too? You could set yourself an entire reading programme if you like!
05-08-2011, 11:52 PM
FitDay Member
Join Date: Mar 2011
Posts: 11
---
Thanks everyone - great feedback and ideas. I am going to meet with a trainer at my gym on Wednesday and have my fitness assessed. They may give me a good idea of healthy, realistic goals. I am someone who needs to plan their fitness week or it just seems to fall by the way side. And I am a 100% believer that it really is 80% what you eat, so continuing to log my food for a while longer will be important. Thanks again.
05-09-2011, 02:56 AM
---
what about some 5 or 10k's or maybe a 1/2 marathon? I'm not a runner by any means but I've done a few 1/2 marathons and they are are fun! Well, it was fun until I got passed by a guy with 1 leg on crutches (not even a prosthetic).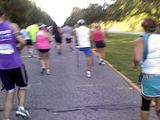 05-17-2011, 06:18 PM
FitDay Member
Join Date: May 2011
Posts: 1
The Last Five
---
Congratulations! Slow and steady does do it. Thank you for posting. I have been chasing my goal since October 2010. The last five are my nemesis. But other goals worth chasing may be the key. I can't afford a personal trainer but maybe some exercise goals could be a new target?

Keep it up and off!
Posting Rules
You may not post new threads
You may not post replies
You may not post attachments
You may not edit your posts
---
HTML code is Off
---