Update: my progress to date.....
04-26-2011, 10:51 AM
FitDay Member
Join Date: Apr 2011
Posts: 57
Update: my progress to date.....now with pics....
---
I have now reached 44 pounds lost since January 19th,2011. I needed shorts because the weather has been beautiful out,upper 80's all this week, and all of my shorts from last summer were a size 16. Went and grabbed a pair of 10's just for the hell of it, and lo and behold, they freaking fit!! Woo Hoo!! Then I decided to be more daring and try on some sleeveles medium shirts, and those fit as well, and looked good on my nice and toned arms. I am so freaking happy!! I met my april goal before the end of this month!! I can't wait til I am in single digits,but I will take this victory an do a happy dance!! I would never have dreamed I would look good in a sleeveless top,I was always so self concious of my arms, they were huge. They still have some more flab to come off, but not like they were last summer. I have a huge burst in my confidence now, like it was a no no to take my picture, now I want those taken!! I even went down to a 34, girls you know what I am talking about lol. Before I was a 38. Got to get this last 41 pounds off til I go to maintance phase, but man I feel freaking amazing!!
---
Last edited by pixiedust7976; 04-27-2011 at

10:09 AM

. Reason: added more to title
04-26-2011, 02:31 PM
Well done Pixie!
---
I can totally relate to how great it feels to suddenly realize you are a size you next thought you'de be. It is an out of body experience. "Hey wait a minute... is that really me????" "Yup - that's me alright!!!!"

Keep it up! Nothing breeds success like success!
04-26-2011, 05:12 PM
FitDay Member
Join Date: Jan 2011
Posts: 426
---
Terrific! I can imagine you with a big smile and dancing around in the dressing room.
Oh, how good that feel! I used to embarass about my belly. In severals sperate occasion, people ask if I was pregnant. "Uh, how dare you ask that", I thought. But now, I wear short and tank top, walk tall and confident b/c I don't have a "pregnant" belly.
Wonderfull, Keep it up. You will lose the rest of it as you plan.
mai
04-27-2011, 02:48 AM
FitDay Member
Join Date: Apr 2011
Posts: 57
---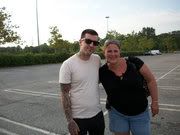 me with lead singer of Bayside last June.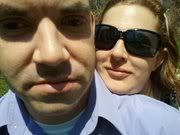 Me and my husband Easter Sunday 2011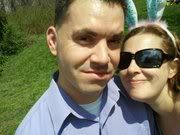 Easter Sunday 2011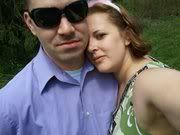 Easter Sunday 2011.
There you guys go lol. I need to get some full body pics, but just in the face alone you can see a big difference.