My story with pics
02-10-2010, 10:52 PM
My story with pics
---
My name is Mike and I was in bad shape (5'8" 210#)and fast approaching age 38 and I knew that getting in shape wasn't going to be as easy as it was when I was younger.
I went from a job that had me active to a desk job. My job changed but I didn't, I still kept the same eating habits and started packing on the weight. I decided that I needed to make a change. That change would come from proper nutrition (that I monitor with FitDay) and exercise (P90X).
I saw the P90X infomercial and wondered if it really works. My 1st goal was to at least drop 20#'s before starting P90X (just to try to make the program easier to do). Well it took me all of 42 days to drop my 1st 20#'s. I continued to work on getting in shape and towards the end of August I started P90X, I was starting down to 182#.
I finished 90 days and got down to 174#'s. Then started my next 90 days. I'm now about to start phase 3, of round 2 and I'm very pleased with my results. I've made a ton of videos on YouTube and have taken a million pictures throughout my journey.
Many of you on here have lost A LOT of weight and it's very motivating. Below are some pics of me (it's only about a 35# change), but hopefully I can help motivate others. I believe you can do anything if you want it badly enough.
Now at age 38 I'm in the shape that I was in during my 20's.
I don't know what the rules are here about posting pictures without your shirt on, for the most part that's what 99% of my pictures are, so if you don't want to see a fat guy without his shirt... I apologize (don't scroll down).
Thanks,
Mike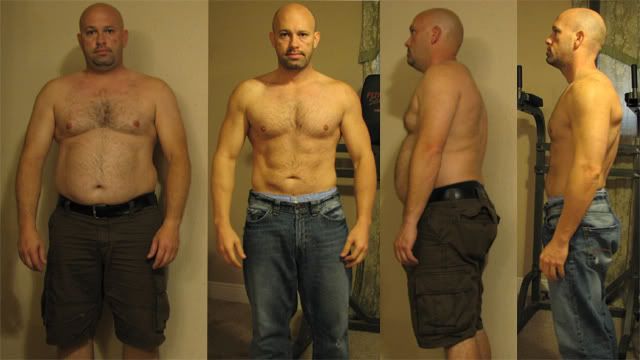 02-10-2010, 11:21 PM
---
at the rate that you're going, you'll be there in no time. I'm not quite where I'd like to be but I'm getting there. My goal is to get down to 10% body fat and either stay at 175lbs. or go up. I don't think I'd want to get above 185 but if I can get the BF% down I just may.
02-11-2010, 01:10 PM
---
I don't see any advertisements
. I downloaded ABP (Ad Blocker Plus) for my toolbar a year ago and don't see any ads. I love it, I think I got it from
Free software downloads and software reviews - CNET Download.com
it was free.
02-15-2010, 12:01 AM
FitDay Member
Join Date: Feb 2010
Posts: 45
---
Look at you!
how great! Esepcially at 38. You seriously did a fantastic job. I even see a 6-pack showing through
Did you also do weightlifting? I don't know what the p90x thing is, so if it included weightlifting, I would not know. But anyway, keep up the good work. I honestly don't think it is necessary for you to lose any more weight (if that is what your going for).