It's time for me to get serious!
11-21-2010, 06:33 PM
It's time for me to get serious!
---
Okay this is it, I am ready to get serious!
My goal:
in 6 months to be in the best shape of my life (I'll be 40 then). I don't have a weight goal but I don't won't to weigh any less than 165 lbs. As far as body fat, I'm guessing ~9%, I think that is going to by far be the hardest part... so I have to be serious.
My plan:
Bulk for Dec, Jan & Feb. Beginning in December I'll go back to eating at maintenance, for 2 weeks. Then I'll eat at ~+500 cals/day (besides cheats). I'll continue to eat clean and allow one cheat per week, at most. I'll start March with 2 weeks of maintenance then cut March, April & May @ ~-500 cals/day (besides cheats). I will workout 3 days a week and do some cardio while bulking, only b/c I have to prepare for another 1/2 marathon that I've committed to. When cutting I'll do the same but increase my cardio.
My concerns:
I have a hard time bulking. Mentally it's hard for me to intentionally pack on weight when I worked so hard to lose it. If I can get past this, I'll be successful.
In a week I'll post up some before pics and I'll try to update pics every 2-4 weeks, depending on progress. I will give updates through out on how it's going and if I am mentally surviving the bulk.
That's it, sounds easy enough, right?
11-21-2010, 09:27 PM
FitDay Member
Join Date: Jun 2010
Posts: 351
---
Woo hoo, Mike, you can do it! Just wanted to throw some encouragement your way.
Btw... I think it's pretty awesome to have a 6-month goal and/or to think of where you want to be in that timeframe. Especially as someone who's losing weight, I just add up the (most likely) # of pounds I'll lose in 6 mos and get excited about it being 6 months from now. Not that I want my life to zip by, but... I think it puts things in perspective - like, all the small changes and the weeks I lose "only" 1# - the thought of how all that stuff will come together even more in 6mos is just awesome and very motivating.
Thanks for the welcome food for thought via sharing your goal - I know you'll do it!
11-22-2010, 12:12 AM
---
thanks everyone. Yeah it's good to have a plan. Like the proverb "He who fails to plan, plans to fail"
I guess I will need some luck to stay healthy and injury free, the rest will be on my shoulders.
11-22-2010, 07:37 PM
FitDay Member
Join Date: Jul 2010
Posts: 56
---
You can do it for sure. I am sure. So basically you are going to mainly fluctuate your calories and continue with your current workout schedual? Eating clean of course. Sounds like a sound approch for sure. Im with you on the eating more to bulk it is scary...
Please keep us posted on results. I am very interested since even though I am not exactly where I want to be weight wise I would like to try for simalar results.
11-29-2010, 03:09 PM
---
I figured I'd put this out there b/c this always seems to be a popular question.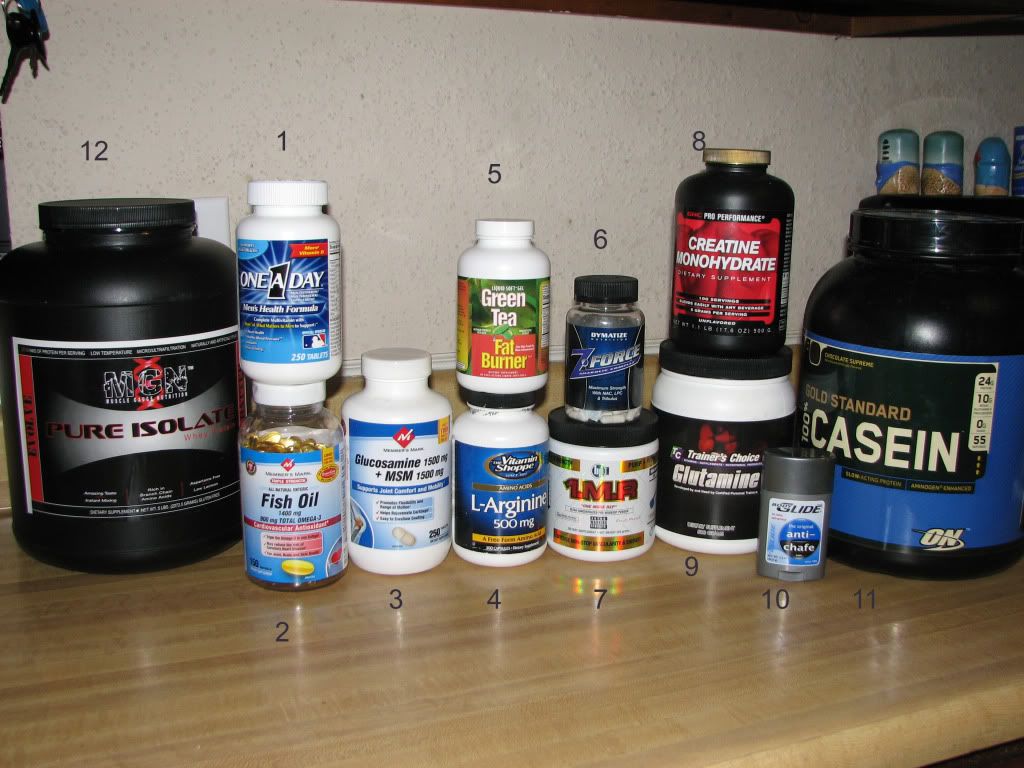 1-3) I take daily
4) I take when I think about it.
5) I'm almost done with the bottle, I'm about to phase out b/c I'm just starting #7 which has caffeine in it.
6) I'll take it before I work out, it's a cheap supplement for Zinc and Magnesium
7) I took this (1/2 serving) for the 1st time the other day, I don't know if it was a placebo effect but I was lifting a lot more on it.
8) I haven't taken Creatine in a long time. This is an old bottle of mono, I've heard that creatine has come a long way since then. I'll try it while bulking, unless I start to get bloated.
9) I'm going to start taking it daily
10) Not a supplement, but this is a must for me when I start running. I have big legs and this stops chaffing.
11 & 12) I won't be taking much of this while bulking. I should get in enough protein with real food when I increase my calories.
Yes, that stuff is expensive and no... I'm not rich.
---
Last edited by 01gt4.6; 11-29-2010 at

03:14 PM

.
11-29-2010, 06:32 PM
FitDay Member
Join Date: Jun 2010
Location: Cincinnati, OH
Posts: 143
---
11-29-2010, 06:47 PM
---
Originally Posted by
yauncin
I would actually advise you to take protein supplements especially if you are bulking. I have noticed better gains when I take whey an hour before and immediately after workouts. Better for protein timing since actual food can take awhile to digest. For me the jury is still out on casein protein though I do use it.
I may take the whey after my workout but I'm going to try to get 150+g a day from food, which I should be able to do.