Home Improvements
10-03-2011, 06:40 PM
Home Improvements
---
I have been talking & talking about the things I have been doing around the house so I figured I better show pics. Pics or it didn't happen! I've been told before!
Before (I thought to take a pic after I started pulling off the border it wasn't torn up to start with
)
After
10-03-2011, 06:44 PM
---
We also removed the old ugly patio blind from our deck door off the kitchen this weekend.
We went from this...
To this...
When I repaint these walls...they are flat white primer right now...I think I am going beige or a tan of some sort and then just to the right of the doors you can see the edge of a wallpaper border. I will replace it with a country themed one. Hopefully with some red berries and tan and red colors throughout to tie these darkish red curtains in. Across the room there is a scarf across the windows that matches this color also. It has made the room look SOOOO different! And for $60, you can't complain!
10-03-2011, 10:55 PM
---
Looks good Wildbeanerz. I did some work over the last Labor Day weekend-
Tore up the old flooring (leaky toilet- yuck), linoleum and old vanity-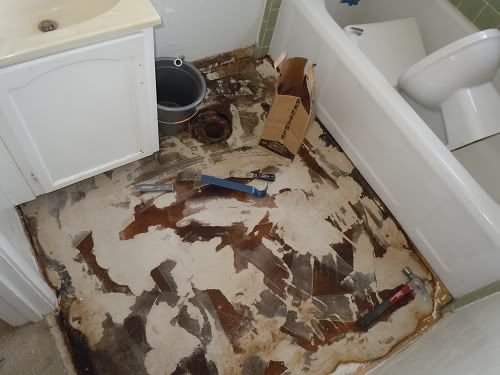 Replaced it with new flooring, linoleum and vanity-
The vanity is a little too big, but it was the smallest one I could find without ordering something and waiting....
10-04-2011, 02:08 PM
---
Wow guys, everything looks great!!! Lots of talent here on the forum.

We renovated our whole house after we bought it, but it's been like 8-9 years since we finished and now most of it needs to be done again. Ugh, I'm getting tired just getting good ideas from you guys.
10-04-2011, 06:59 PM
---
Nice work!
I love to demo stuff but unfortunately I am not talented enough to do the remodel part without someone else telling me exactly what to do!
I did mix and pour my patio with help from a friend but the earthquake cracked it all the way from one end to the other. And I built my deck with my neighbor! He built a bonus boardwalk for me too!
We also redid one of my bathrooms together. I had pros do another, even let them pic out all the tile which I LOVE! Have one more to do since I already started the demo, lol.
I could use a good decorator. I have some pretty cool stuff but I have no idea how to make it all come together!
10-05-2011, 06:48 PM
---
Great project sw07! Luckily our home doesn't need anything like that done. It isn't very old and for most of it's existense nobody really lived in it.
So ours is cosmetic stuff mostly. We do need new back decks and if anybody sees them they always say they don't want that job. They are roughly 15 ft off the ground and from ground level there is a steep bank going down about another 15-20ft. So nobody is volunteering to take on those projects!
vabeachgirlNYC...I know what you mean about needing a decorator. Growing up we pretty much had whatever we could afford whether it matched or not. My mom was not a homemaker at all. So I am learning day by day and magazines and home shows seem to help alot.