Motivation & Support 9/28-10/4
09-28-2015, 03:24 PM
Motivation & Support 9/28-10/4
---
How did everyone do over the weekend?

I have a problem that I just don't know how to control. I feel like a bottomless pit. I almost always feel hungry. It's said that it takes 20 minutes for your brain to realize you've eaten and that you're full. Last night I had 1 hot dog and a small handful of bbq chips with diet soda. Even after I ate I was famished. I wanted to go down and eat a whole other meal. and sometimes I do honestly. I sat with myself though thinking if I wait a few minutes, then a few more minutes and a few more that eventually I'll not be hungry. People, it took my brain 1 full hour to tell me that I ate and wasn't hungry! How do I combat this? And please don't say "drink a glass of water". I've tried this many times and it makes no difference. I drink a lot of fluids while I'm eating and otherwise. I honestly don't know how to keep my eating under control when I constantly feel hungry and deprived.

Goals for the week:
1. easy on the sugared soda
2. 1 atkins w/ milk / day
3. control portions
09-28-2015, 03:57 PM
FitDay Member
Join Date: Apr 2010
Posts: 2,269
---
Hi Lisa, I have this problem sometimes. I try to figure out filing foods. For example, for me, steel cut oatmeal ( McCann's) is more filling than any other kind. I don't love oatmeal but I add fruit and nut and it's really filling breakfast. Sometimes if I am super hungry, I'll add whole grain bead or rice or potato to a meal to fill me. You might just need to add soups, salad, etc to help fill you. One hot dog and a few chips is not that much for dinner. I'd be hungry too. A baked potato rather than chips would have filled you more

Goals:
1) Alright, water - 6 glasses minimum
2 Priorities
3) Plan meals
4) Clean diet


Plan for 9/28
Breakfast
One egg, one egg white, spinach and goat cheese - had
Lunch
Hummus and salad in whole wheat wrap
apple
Dinner
Filet of sole
Quionoa/millet/veg salad and rice and beans ( leftovers)
Snacks
goat yogurt
walnuts/figs
dried kale
09-28-2015, 04:15 PM
FitDay Member
Join Date: May 2014
Posts: 895
---
Hi all. It's good to be home again. The cottage is closed up for the winter and I can settle down to getting my own home straightened up. I was very good with food choices while I was away but the scale didn't show what I thought it should. I had to revise my goals again because my weight loss is slowing down to a crawl. It's time to get some exercise in.

Lisa, do something that is incompatible with eating like putting on nail polish or whitening your teeth or hand crafts. These are some of the things that I do.

Debbie, where you at girl. Come back soon.

Let's all have a good week.
09-28-2015, 05:57 PM
---
Hope you all don't mind if I join up, I've got really out of shape in the past 12 months and need some support to get back on the wagon.

Lisa, try eating foods that contain liquids rather than food and liquids. Soups, cereals, etc might do the trick mentally.

Goals:
Calorie defecit everyday
Exercise everyday
09-28-2015, 08:53 PM
---
What's up people? I forgot to set my goals today but one of them was going to be to do something productive, which I've done. I've gotten some pallets, disassembled (which is difficult), and put the boards back together, framed them up from behind, painted then stained for a rustic look. Turned out good for my first try.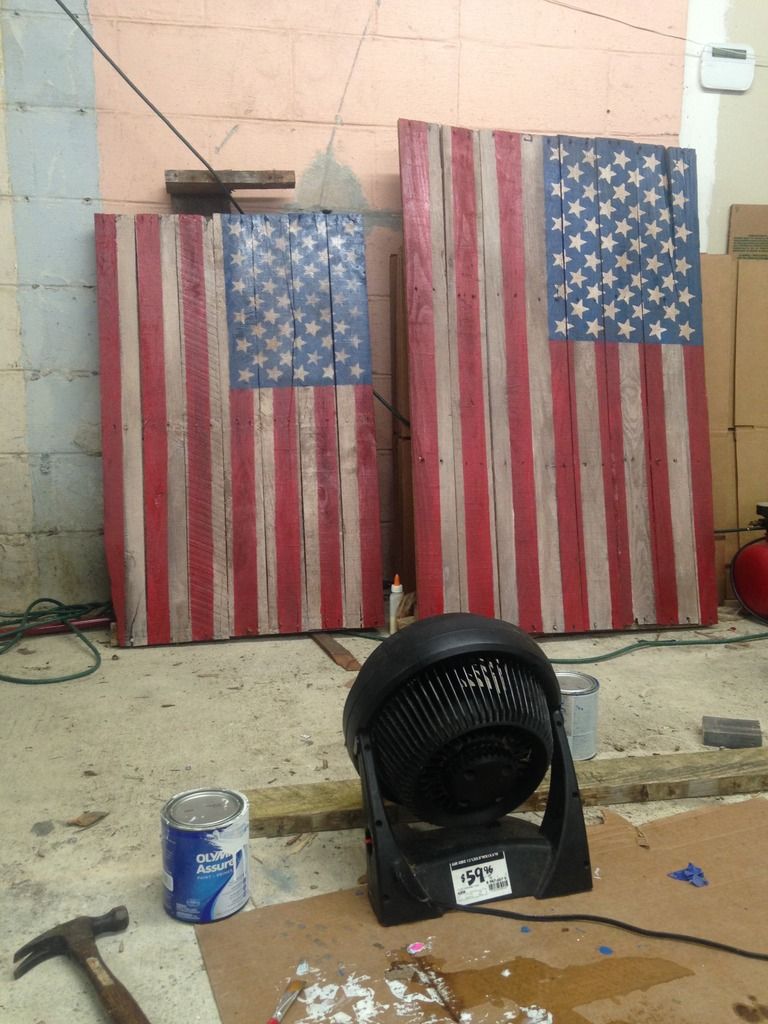 09-28-2015, 09:50 PM
FitDay Member
Join Date: Aug 2014
Posts: 306
---
Mike: Your project looks nice! Good job!

Libby: Those rotten scales--shame on them! I know what you mean--it seems like I put in way more work than they realize at times too!

Lisa: I do best when I eat some protein and fiberous foods at least every 3-4 hours when I'm awake. I try to tell myself that I won't starve to death before my next meal but sometimes my tummy doesn't believe me! The only thing I let myself have whenever I want is water with a sugar-free drink powder mixed in. This journey is tough!
I've also found that when I get out of the kitchen after meals and get involved with something not food related I can go without food easier.
My sister brushes her teeth as soon as each meal is finished--before she clears away the leftover food/dishes. That way she says she doesn't want to get her teeth dirty. If she DOES eat an extra bite, she brushes her teeth all over again! (She has some beautiful teeth!)

Ian: Glad you're here! Today's a great day to start!

Hope: How do you fix your sole? I've got some fresh salmon marinating in a balsamic vinegarette dressing the fridge to fix tomorrow! It's a new recipe I'm trying!

Quiet weekend at my house. Made a meatloaf with additional veggies. Didn't get to see the moon last night--clouds were too thick. Vicki
09-28-2015, 10:07 PM
---
Goals
1) drink 100 oz water a day
2) no visiting the ghost
3) do something productive 3x
4) buy a scale and log my weight
For those that don't know, my "no visiting the ghost" means no getting up during the night to eat. The funny thing is I use to always list it as no visiting the ghost and I'm sure people thought I was crazy. I know many don't believe in that sort of thing. Anyway, I sold my house a couple months ago and within a couple weeks, the new owners was telling my old neighbors they thought there was a ghost in the house.
09-28-2015, 11:43 PM
FitDay Member
Join Date: Aug 2014
Posts: 306
---
Mike: I have a friend who actually lives in a home listed on a few websites as 'haunted'. Some of our friends won't stay overnight in the house because they say they hear/see things. I've spent several nights in her upstairs guest room alone and have had no problems--never heard or saw anything, other than my shadow! Vicki
09-28-2015, 11:52 PM
---
Hi all
I've been inconsistent posting here...and inconsistent with my efforts. Yesterday I started with a sinus cold/infection so I'm feeling pretty ill today. I was planning to get in some exercise after work but feeling too unwell. I did manage to track my calories today....so that's a positive!
Lisa
- Thanks for starting us off again this week! I don't have any good tricks for feeling full. If I'm still hungry but have no calories left for the day, I try to fill up on veggies. A hot drink like tea or light hot chocolate seem to help as well...oh and soup too! I remember way back that you used to eat sweetened rice...I think you said it satisfied your sweet tooth and was filling. Do you still eat sweet rice?
Hope
- I second that....a baked potato is nice and filling. It may be that it's high in fiber that makes it so satisfying?
Libby
- I'm here girl! Thanks for the call out
So what do you have planned for exercise? Are you going to go back to aqua fitness? You seemed to enjoy that.
Ian
- I've been struggling with that darn wagon too! Lost all the weight then gained it all back....plus some
You're in good company here!
Mike
- Cool project! Are you making the pallets into table tops or something? K, that's seriously freaky that the new owners think there is a ghost in the house! The house you just sold...is it the new house with tons of property that you just bought in the past year or so?
Vicki
- Here's my
favourite salmon recipe....
in case you're interested. I have never really cooked sole...if you find a good recipe, please do share!
Have a good evening all!
09-29-2015, 12:21 AM
FitDay Member
Join Date: May 2014
Posts: 895
---
I just had company over for supper. Every one is enjoying pie so I left the room. I probably won't go back into the kitchen this evening and dishes can wait till tomorrow. Happy dieting.
Debbie, I don't know what I am going to do for exercise. My right foot is hurting so bad that I can hardly walk. I was on my feet a lot today, cooking and cleaning.