Should you calculate sleep as an activity???
03-13-2011, 04:40 PM
Should you calculate sleep as an activity???
---
This seems to be the million dollar question here.
I've been told the sleep is calculated in already but I find when I enter my hours of sleep my numbers look more accurate.
This is what I find and this is MY OPINION and these are my findings.
This seems to be the popular belief:
Physiology - basal metabolic rate: BMR; metabolic rate when subject is awake but at mental and physical rest, at a comfortable temperature, and without food for at least twelve hours.
Lets look at my activities page.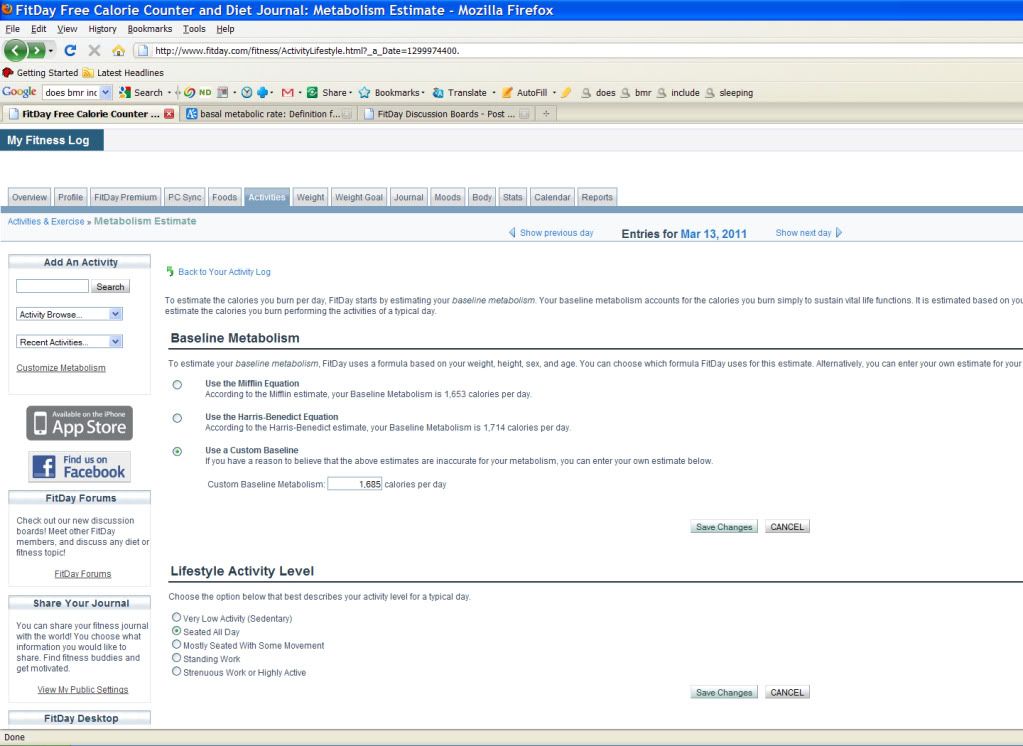 You will notice that there are two distinct and SEPARATE categories, Baseline Metabolism and Lifestyle Activity Level.
I use a custom BMR of 1685 cals/day (about an average of the Mifflin Equation and Harris-Benedict Equation).
So now lets assume that I am resting,
BUT AWAKE
, for 24 hours. To find this, click the drop down for
Activity Browse > Inactivity > lying quietly (doing nothing, lying in bed awake, listening to music)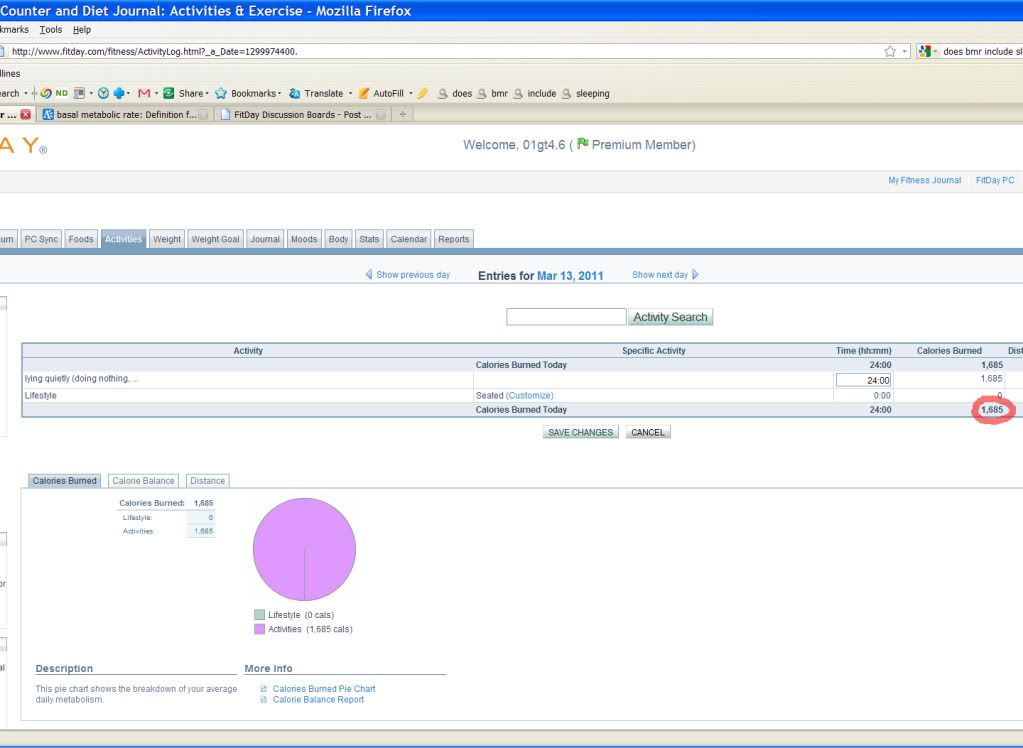 Does that number look familiar? Is it a strange coincidence?
In my opinion that shows that sleep is not included. BMR equates for a person being awake and sleep SHOULD be calculated as an ACTIVITY.
If I'm wrong I apologize, do I do believe these numbers are correct.
03-14-2011, 04:35 AM
FitDay Member
Join Date: Mar 2011
Posts: 5
---
thanks for the info and good sleuthing!

along the lines of what i posted in "fitday PC" forum (maybe that thread should be moved here?) it may be helpful to have a little informative write-up on the FitDay Metabolism Estimate page to help choose the best activity level and whether or not to add sleep.

another suggestion: it would be great to have averages available at the bottom of the calorie intake/burned balance charts so, for example, i can see what my average weekly (or twice weekly, or monthly) calorie balance is, my average daily calorie intake over x amount of time, and my average calories burned on activities over x amount of time.
Posting Rules
You may not post new threads
You may not post replies
You may not post attachments
You may not edit your posts
---
HTML code is Off
---