7 Day Motivational Thread Starting 03/26/12
03-29-2012, 03:06 AM
---
Not my best day, but not my worst, by far...
1. Calories no more than 1300.
1249, and 150 of that is cough drops, vitamin C, and cough syrup
, 1235,
1490
2. Follow my pie chart rules.
Yes, Perfect today!, Yes
3. Sleep 7 hours a night, melatonin if I have to.
Yes, Yes, Yes
4. Exercise 6 days (hope I can get this; I'm sick right now).
One, Two
5. Fluids all day long.
Yes, Yes,
Medium
6. No white sugar/flour (note to self: this means frozen yogurt).
Totally forgot; had half a fortune cookie,
Yes, Yes
7. Deal with insurance company provider issues.
Not yet, and another one just came up
,
Done all I can till I receive some responses
8. Reorganize/file in home office.
Not yet
9. Clean basement (weekend goal).
Not yet
10. Take the boy shopping (weekend goal).
Not yet
Well, today bit my butt with the same old habit...being too busy, letting myself get too hungry, then eating too much in the evening. One of these days I'll learn.
Mern, so sorry you had such an awful time. It sounds very painful, and I hope you're back to your old self very soon. Take it easy, ok? The mention of simethicone brought back so many memories of my son as a baby, very colicky, very gassy; we would drop it in with a medicine dropper and it smelled like bubble gum. So long ago, but it seems like yesterday. Now I'm going to have a "moment," ah, geez.......
.
Luv, your goals look wonderful. No worries about that red intruder; you'll be back on it tomorrow!
Tori, I hope things take a brighter turn for you soon. Sorry you're going through so much. If you get too nuts, I have an extra bedroom
.
I've gotta go learn a new test before bed, so I'll talk to y'all tomorrow. Have a good night, everyone!
03-29-2012, 03:23 AM
FitDay Member
Join Date: Mar 2012
Location: canada
Posts: 441
---
1) 1,650 calories max/day (allow myself 1 guilt free day over 1,650) -
1780
, 1499, 1367
2) walk for 1 hour, lift weights for 1/2 hour at least 5 days per week - no,
yes,
1/2 walk
/yes
3) 20% protein minimum -
19%
, 24%,
16%
4) 72oz water minimum -
72oz, 72oz, 72oz
5) calorie deficit at least 600 -
725, 840, 890
6) finish my resume -
no, no, no
7) get a definite plan for the house painting job I'm doing for my friend
done
8) keep my spending log up to date -
no
, yes, yes
03-29-2012, 03:49 AM
---
Update
Wednesdays are always rough for me (work, the gym and pool league) My diet sucked today but somehow I managed to be deficient (scratch that, I got up and ate when GF came home).
I may write another policy or two but I'm debating on holding off until next week, since that starts the new quarter.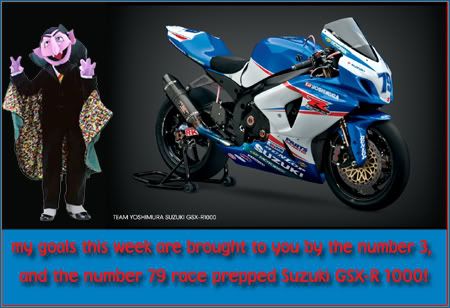 Heath and Fitness:
1) Calorie deficit of
3
k:
-907, -606,

+200

(-1313 so far)
2) Workout
3
times:
yes

, no
, yes
3) Walk
3
times:
no
, yes
, no
4) Drink
3
liters of water:
yes
, yes
, yes
5)
3
serving of fruits/veggies:
yes
, yes
, yes
Other
6)
3
random acts of kindness:
no, not that I can think of, I thought that I did (but can't remember it) so NO!
DONE
7) Write
3
auto policies (or $
3333
in premium
): yes ($3715)
---
Last edited by 01gt4.6; 03-29-2012 at

01:59 PM

.
03-29-2012, 04:02 AM
03-29-2012, 04:08 AM
---
Rizzona welcome.

Fit4luv- I bough new scales too, I hope yours are kinder than mine were as mine were 3 pounds different than my old ones. I still –3 pounds everytime I weigh. Silly things we do when we are trying to lose weight. The old scales agreed with the Dr. I think I will just adjust my stats as there is no calibration feature.
Also a big woohoo on your 500th post. Pretty awesome for someone who just joined in December. As well as changing your goals in to habits.

Wildbeanerz- awesome job on the measurements.

Canary – hope you feel better soon, my GF has Fibro and some days she is totally in pain the next nothing. She says her body is a traitor.

Taubele- that is the sweetest story about your BF, I hope your ankle heals quickly I actually winced when I started reading your post.

Nobe – awesome accomplishment for Feb and March.

Stressa – the site is frustrating as it is currently hanging for me. That is awesome that you save greyhounds, my family did that many years ago when we lived in England. My Dad used to bet on them and one day one of the dogs was tied to the fence and no one was around. Every Thursday he bought another dog home until we had six. My Dad would make sure they were healthy and adopt them out. We adopted out 35 dogs. He never ever bet on them after bringing the first dog home.

Mike – I know how the looking goes. I got a Honda Interstate for my 50th birthday, kept sitting on the bike every time I went to the Honda store until it followed me home one day. What's a girl to do, it matches my eyes.

Almathea – stay strong with the pact. Don't work too hard.

Mern – I'm so sorry about your gas bill, did you find out if it is related to low carbing? I'm glad you know how to take care of yourself and staying in bed and resting.

Tori – I'm glad you are here and posting and still working on your goals.

I am sorry for those I missed, this site is driving me crazy as it is taking 3-4 minutes to load and it's happening more and more.

My goal for calories was under 1450 and I went over today by 39 calories. Normally I get my breakfast logged in but forgot today and forgot to put in peanut butter. Exercise is right on track as I was to do 4 hours of strenuous activity and I'm already at 6 for the week. Having a bit of a problem with a shin splint in my right leg so I will assume it is my non-dominant leg and I'll rest tomorrow.
My doggie is doing better on her medication. She doesn't have to go back to the vet for another couple of months and they will test her kidney function.
Have a wonderful Thursday everyone.
03-29-2012, 04:24 AM
---
Tori, not killing someone or not blowing snot rockets on someone doesn't count as kindness. I'll get there, maybe.
Crazy, I know what you mean, unfortunately my eyes are sh1t brown. I still need to get my motorcycle endorsement. I guess I can always wait until I get the bike.
03-29-2012, 09:48 AM
---
Originally Posted by
Mern
Tunnrida, you are one amazing lady! What we call a very well-rounded education in different fields: speaking fluently in two languages and understanding a third, economy, art, music, karate, kickboxing, and it sounds like you enjoy working in the night club. And then to have your life complimented with your boyfriend and cats is the icing on the cake, as we say--something extra-nice.
I thought from reading your posts you might be vegetarian--sounds like you have found ways to be sure you get in your protein. Hope you're feeling better after your woman stuff. I saw Mike's comment to you. LOL saracsm is one of my FAVORITE languages. Hey, I AM bi-lingual and just didn't know it!
Thank you very much!
this would be wonderful all if I could find any good day's job here!
Looking it for months!
Yes, I'm a vegetarian, and I am careful to intake of protein, after a workout always drink a protein shake.
I am much better, thanks!