New here- 40 lbs lost (pics included)
05-29-2012, 05:06 AM
FitDay Member
Join Date: May 2012
Posts: 3
New here- 40 lbs lost (pics included)
---
I'm around 5'8, started off at about 247 lbs- always been on the heavier side and always had an issue with eating healthy. I never ate because of depression or any stresses in life. I just love food. But I woke up one morning and said to myself- I am not going to be miserably fat the rest of my life- I need to get this taken care of now while I'm young...so I'm 40 lbs down and still have a ways to go! Still would like to lose 50 more lbs before I am at my goal weight. Feedback would be appreciated...or ANY suggestions you have to help avoid those annoying cravings..and good cardio and strengthening exercises that seem to work for you. Thanks!!
Before:

40 lbs down- in progress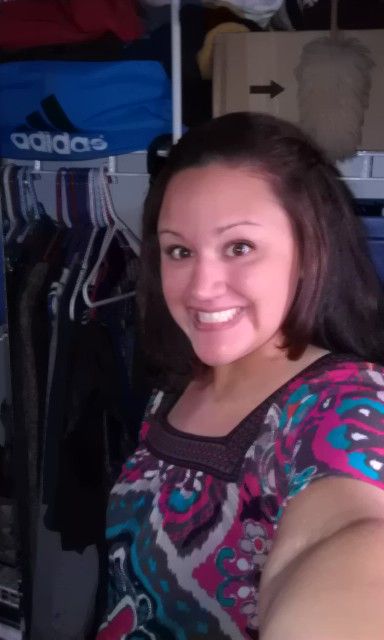 05-31-2012, 03:28 PM
FitDay Premium Member
Join Date: Feb 2011
Posts: 221
---
Way to Go!!! I was 248 and now I am 220 ... I understand ( I am also 5'7.5" ). I make monthly weight goals on here which is bite sized chunk I can manage without any stress.

I walk for 35 min first thing Every morning except for last Saturday when it was pouring rain with 90 mph winds...I let myself off that one! Lol I do something called Oxycise by Jill Johnson which is awesome cardio...and I do it laying on my bed!!! My fat is just melting off me with all the deep diaphragmatic breathing and isotonic/isometric bodywork. Oxycise is online, there is a great community and lots to read about why oxygen burns fat...you just don't have to jump up and down to do it!

Hang in there..keep doing what you are doing it obviously works for you.

Meggietye
06-03-2012, 01:09 PM
FitDay Member
Join Date: May 2012
Posts: 1
Congrats! Some of what works for me...
---
You're looking great - can definitely see the progress you're making! I'm also 5'8", and I'm in my forties. I love food as well. I have used it not just to enjoy, but emotionally as well - so I'm trying to stop doing that, and get some of this weight off and change my way of thinking about how I approach eating.
I can "carry" my weight fairly well, but stripped down, I see all the fat I'd like gone. Unfortunately, my husband doesn't want me to lose too much so he asked me to just lose 6 more pounds and then stop. He thinks I'll be miserable trying to maintain if I try to get any lower (or he thinks I'll just go back up - which has happened before!)
So I'm trying to be happy at the weight I'm at, but just keep plugging along. I don't want to waste any of these days I have, because tomorrow isn't a guarantee. I used to diet and exercise and stay focused on the goal only, instead of enjoy TODAY.
So my first piece of advice, enjoy TODAY. Don't wish for tomorrow. If it will come, it will.
Second, exercise. For me, I have to mix it up. I do Chalean Extreme videos - there are so many of them in the set, are a combination of cardio and weightlifting, and I go cycling outside.
And again, to get this weight off, I personally have to be strict. And I don't want to think too much about it - so I like to have a diet that is pre-planned (I'm doing Extreme Fat Smash).
Some will go a slower route - and that's awesome. I wish I was that patient. But to be honest, I love food too much. I'd rather go through a tough period of denial and hard work, and GET THERE, so then I can get to the maintenance period FASTER. But that's just me.
Bottom line, it's whatever works for you, your personality, your schedule! But the other bottom line, there's no shortcut. You DO have to exercise, and you DO have to watch what you eat.
It's hard. But you've made so much progress already! Congratulations! Chris