Have any hobbies?
01-06-2011, 01:02 PM
---

Loves:
Working out- setting new challenges for myself
Date night with my boyfriend- i like to be spoiled
Baking- i try to make everything healthier than it is
Traveling- this is not just a hobby it is a passion..i wish i could do it more!
Crafts- fixing things around the house, scrapbooking, making things
Being with family
01-06-2011, 06:53 PM
---
I love Naruto! Only following Shippuden myself at the moment, but I like to go back through my collection and re-watch stuff like Chobits, Fruits Basket, NGE, FMA, Inuyasha and others.
As for games, well I used to play a lot of Xbox 360... GOW, COD, Guitar Hero mostly. I also LOVE retro gaming, especially old Nintendo classics like Mario and Zelda. Mostly I play Sims 2 on the PC though, or games on my DS.
01-06-2011, 07:58 PM
---
-K9 Training with my 3 puppies
-cooking
-weightlifting again
-anything watersports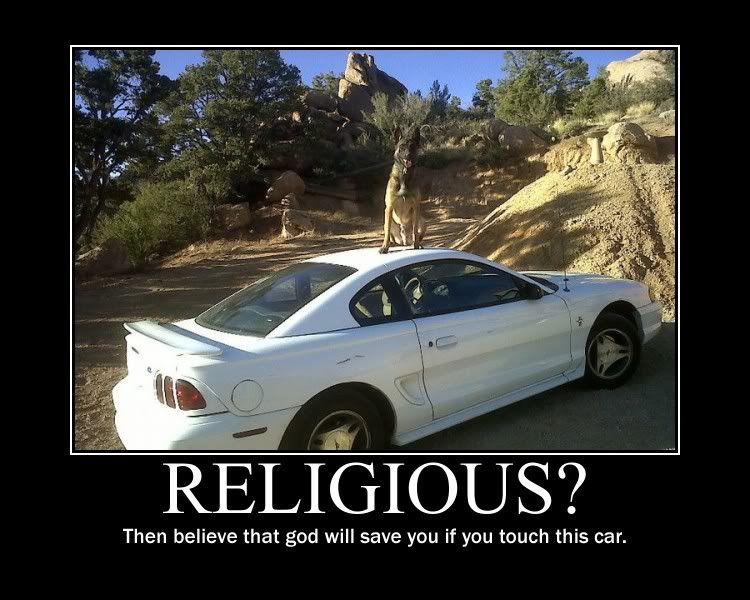 Fun picture, obviously this is just my beater, and FYI the scratches on the hood and roof never came out.
01-06-2011, 08:06 PM
---
Its fun reading through this thread...

Mine are:
Reading/listening to audiobooks (on the road a lot for work)
Knitting
Sewing/costuming
Cooking/farmers market/politics of food and nutrition
Backcountry camping
Gaming (mostly WoW -- I know, not very active)
Going to concerts (love our local music scene)
Bike riding/repair (just learning the repair part, so liberating!)
Trying new beers
Hiking (I do a lot at work, but its nice to walk around outside for no reason at all)
01-06-2011, 08:08 PM
01-06-2011, 09:07 PM
01-06-2011, 09:39 PM
---
So you can relate to all the bruises, scratches, and teeth marks on the hands, forearms, shoulders, calves, thighs, and now my butt from the newest 5 month old she-devil puppy.
01-07-2011, 06:57 AM
01-07-2011, 05:12 PM
---
dancing
socializing with friends
chatting online, txting
gaming(mostly puzzle games)
reading
listening to music
walking on the beach

that's all i could think of right now

Rocky i love those pictures!!!!!!!!!!
01-07-2011, 05:32 PM
---
Rocky, you should do like what's-his-name on Jacka$$ and wear a steak suit and let the dog come at you. That's like killing 2 birds with one stone, training and feeding.