Animals!
12-03-2010, 06:08 PM
Animals!
---
How many and what kind?
Right now I have 4 big dogs, 6 cats and a bird. I even have a yard squirrel that wants to live with me, he snuck into my house one time! I also have a vole that looks like mickey mouse. He has been living under my deck for 3 years! And a spider that makes cotton ball webs!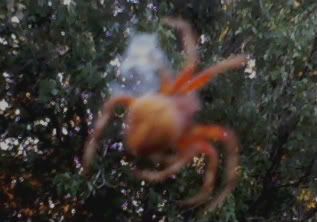 ---
Last edited by vabeachgirlNYC; 01-24-2011 at

04:26 PM

. Reason: tried to post pic
12-03-2010, 06:16 PM
---
1 big dog (65#)and 1 little dog (7#). The 7 pounder is the boss!
---
Last edited by 01gt4.6; 12-03-2010 at

06:32 PM

.
12-03-2010, 06:44 PM
---
Wow vabeachgirlNYC!! You have a real menagerie. Sounds like fun at your house!

I am an animal lover myself and if I didn't live in a condo, I'd have more but for now I have one incredibly handsome Schnoodle who is about to turn 14 on December 13th. He has been with me since he was 4 months old and I could not have dreamed of a better furriend. He's got more personality than lots of people I know. He's a big little dog weighing in at 25 pounds.

Mike, isn't it cool when the little dogs dominate? In the dog world, it's all about the energy and the attitude, not the size.
12-03-2010, 07:43 PM
---
3 small dogs here-a Min Pin runt, Italian greyhound and a Chinese crested (hairless). The Min Pin is definitely the Boss, but the Greyhound will challenge her sometimes...

We also have 4 koi in various lengths and a Black Window that I keep in plastic jug- the BW was going to be made into jewelery, but she laid an egg sack and lost 1/2 her size. I'm trying to fatten her up so we can cast her into silver- ya, weird hobby.
12-03-2010, 07:58 PM
12-03-2010, 10:25 PM
FitDay Member
Join Date: Jun 2010
Posts: 351
---
2 big and very fluffy cats - 11 & 12 pounds, respectively. It's odd to think that I've lost more weight than what the 2 of them combined weigh... O_o Haha, I'll think of that the next time I hold them. Anyway, they're a lot of fun and soooo cute.
12-03-2010, 10:31 PM
---
Wow she's a little handful! Must be cute as a button! Perhaps a picture is in order?
Mine is a Schnauzer/Poodle cross and he was a little speed freak when he was younger. Now he's a senior and nearly blind so he's a lot more chill but he still gets feisty sometimes! I have included a picture of my little guy.
Wow, Changeisgood, love it! I think that's awesome that you lost more weight than your two fluffy kitties combined. As soon as I hit the 25-pound mark I am going to pick up my dog and think of that!
---
Last edited by mtlgirl; 12-03-2010 at

10:40 PM

.
12-03-2010, 10:37 PM
---
lol, changeisgood!
I've got three cats who were all brought in as strays at different times. Two calico tabby females who are very slender and who, when put together, don't equal the weight of the 16-pound "big dumb jock cat;" the guy everybody loves but who just ain't that bright.
The vet told me I could scatter his dry food on the floor so it would take him longer to eat and thereby eat less...sounded ridiculous, but even more so was the fact that I caught myself wondering if it would be a good idea for people, too
.
12-03-2010, 10:46 PM
---
---
Last edited by 01gt4.6; 12-03-2010 at

10:52 PM

.
12-03-2010, 11:01 PM
---
OMG! I was rolling and my dogs were barking at yours.