What are you eating...
06-30-2011, 12:07 PM
FitDay Member
Join Date: Apr 2011
Posts: 81
---
Originally Posted by
RunbikeSki
It has become a semi-annual ritual. There are a bunch of reasons - none of the are particularly religious - but there have been times when I would make a deal with the Lord, or the devil (whoever is listening) for a grilled cheese sandwich.

Kidding aside there are 3 main reasons:

-to remind myself that the majority of world, and an increasing number of people in the US, don't have enough to eat.
- to remind myself how pervasive the availabilty of food is, and how we are saturated with food advertising designed to get us to eat more. When you are denying yourself the pleasure of eating your senses become incredibly atuned to any reminders of food.
-and lastly as a self discipline exercise.

BTW it isn't a very good weight loss technique, at least for the 7 to 10days I do it. I will lose a lot, but most of it comes back once the bowels fill back up and the body readjusts to a normal hydration pattern.
I like your reasons!
The closest I ever came to fasting was doing the Master Cleanse Diet.
07-17-2011, 04:16 AM
---
Baked cauliflower
Baked homemade fries
veggie burger with a 1/2 slice cheese (had to share with my dogs!) covered in finely chopped lettuce, tomato, onions, mustard
Kind of a funny...I was going to have cool whip with fruit and sf/gelatin free jello later, but the whole container of frozen cool whip disappeared right off my counter!
My newest rescue dog must have gotten it because I found my dingo/pit laying on the couch, in the dark, with the empty container! I had to lol because she was probably set up to take the blame and I bet she didn't even get a lick of the cool whip!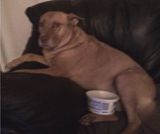 08-06-2011, 10:39 PM
---
Just got a call that I am being fed whether I like it or not by my neighbor who thinks I am getting to skinny and not eating! Lol !!! Yay! I am getting ready to dive head first into a special, made just for me, from scratch, carrot cake! Woot! Can't wait!
08-14-2011, 11:32 PM
FitDay Member
Join Date: Aug 2011
Location: Rochester, IL
Posts: 13
---
I had
Brussel Sprouts with Bacon
, (it's so good I had to put a link to the recipe)- hamburger patty with pepperjack cheese, tomato & light mayo on a bun. Oh - and Yoplait Chocolate Mousse Whipped yogurt. *I can't stand the taste of yogurt, this is as close to it as I can get*
I'm trying to get my protien up without risking my fat and carb ratios - this isn't as easy as it looks.
08-14-2011, 11:57 PM
FitDay Member
Join Date: Aug 2011
Location: Medellin, Colombia
Posts: 64
---
A protein drink made with water and soy milk powder, and protein powder mixed in a blender with a banana.
365calories 6.4grams of fat /52 grams of carb /28.3 grams protein

Now, I have on a flat grill an arepa which is very popular in Colombia.

I just started eating them recently when I realizewd that carbs were my friend and these are some of the best carbs that I can get. The one that I am heating up is a 6 grain arepa 168 calories .6 fat / 31.5 carbs /5.1 protein

I am going to spread cream cheese all over it!!
Some diet, huh?
cream cheese 2 tblspn 80 calories 8 grams of fat/ 0 carb/ 2.5 grams protein
09-04-2011, 06:49 PM
FitDay Member
Join Date: Sep 2011
Posts: 8
---
Good thing I ate before I read this! I just finished 1/2 small eggplant and 1/4 small head of cabbage, both tossed in tablespoon canola oil, salt and pepper and roasted for 30 min. Lots of flavor and very filling. Dessert was green grapes.